This Disney-Themed House With 2 Mickey Pools Is Available For A Cool $850K
by Thea Glassman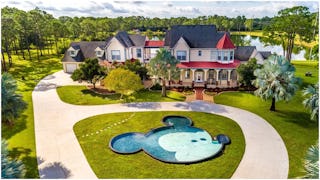 Image via Treasure Coast Sotheby's International Realty
This Disney-themed house is a whimsical, magical dream come true
Okay, Disney fans, we're going to need you to put on your Mickey Mouse ears and take a long, deep breath. There's a Disney-themed house on the market and the pictures will make your heart burst with joy. Seriously. There are TWO Mickey pools and a Winnie the Pooh bedroom.
Let's get started with the basics. This house is located in Palm Bay, just an hour away from Disney World. That means so, so many visits to the amusement park and all the churros you can possibly stomach. It also comes with an $850,000 price tag, which is quite hefty but you can't really put a price on 24/7 magic.
Now, onto the tour. The kitchen is bright blue and features the whole Mickey Mouse gang. Will you get an influx of distant relatives who suddenly want to come over just to hang out in this room? Yes, you definitely will.
The kid's room is bubblegum pink and features a sleeping Winnie the Pooh, along with all his friends. Now, if only it was socially appropriate for you to snag this room instead.
On the plus side, you can take baths EVERY DAY in this bathroom. Bring us there immediately.
There's also literally a Mickey Mouse stained glass front door (you know, just in case people were still questioning your commitment to the franchise).
Okay, now onto the pièce de résistance. Just look at this Mickey Mouse-shaped pool. Is your Disney loving heart currently ~feeling~ things? There's more.
The outdoor area literally looks like a mini version of a Disney waterpark, complete with a bridge, tiki hut, waterfall, and grotto. Oh yeah, and there's even a hot tub, where you can sip on your adult beverages whilst rewatching Aladdin. Win-win.
Here's to living your very best life in the second most wonderful place in the world. And if the whole $850,000 price tag isn't working for you, binging Disney movies and eating churros all weekend sounds like an equally magical idea.
This article was originally published on