You Can Now Get Married At The Tree Of Life In Animal Kingdom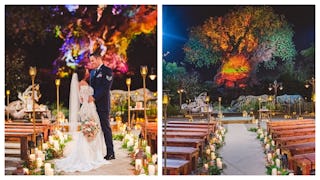 Image via Disney
Disney's Animal Kingdom is now offering Tree of Life weddings and I need
For Disney lovers who want to tie the knot in the happiest place on Earth, the options have been historically limited. I mean, unless you want to invite thousands of strangers to your big day, there just aren't a lot of options at Disney parks that offer the space and seclusion necessary to pull of a wedding. Until now. Call up your wedding planners, Disney fans, because Disney World in Florida is now offering Tree of Life weddings at the Animal Kingdom.
That's right. That iconic tree at the center of the main square when you enter the park can now be the backdrop to your "I do's," and once you see the photos from the first wedding held there, you're going to be rushing to put down your deposit.
Um, hello, do you see those lights? Someone find me a husband, STAT. I'm making my reservation for a lovely fall wedding, so I'm depending on you, readers, to find me a Disney-loving man. K thx bye.
In all seriousness, though, this wedding is to die for.
This gorgeous couple lucky enough to score the first Tree of Life wedding were actually part of "Disney's Fairy Tale Weddings" on Freeform. On July 5th, the park announced that this is officially a thing all couples can do.
"The iconic centerpiece of Disney's Animal Kingdom serves as the picture-perfect backdrop for a memorable wedding," Disney said in a release. "Lush trees and exotic flowers surround the space, creating an enchanted setting."
Um, yes. This is a no-brainer.
If you're already married, welp, sounds like it's time for a vow renewal. Because the happiest place on Earth is officially now the home of the most beautiful weddings on Earth, and everyone needs photos like these.