Disney Is Now Offering Vodka And Moscato-Spiked Dole Whips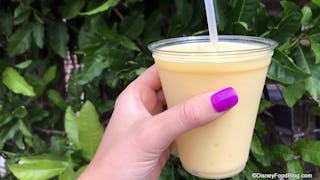 Image via Disney Food Blog
Rum is no longer the only booze you can use to spike your Dole Whip at Disney
Ever since adult bevvies made their debut at some of the company's theme parks, Disney and booze have gone very well together. While Disney parks are undoubtedly the most magical places on Earth, there are some less magical parts of the experience, like waiting in lines a zillion miles long, listening to the whining of your kids as well as strangers' kids, and dropping a week's pay on a single souvenir. A little sauce goes a long way to make the experience as magical for the grownups as it is for the kids, which is why we've been happily spiking our Dole Whip for as long as the parks have allowed us to.
And while Dole Whips spiked with rum have been available in both Florida and California for some time, we still want to be first in line to try a new variety of boozy Disney treat: the Dole Whip Froscato, which is the classic pineapple soft serve pre-mixed with both vodka and moscato wine.
As usual, Disney Food Blog has all the deets on this new adult treat.
According to the site, you can currently find Froscato at Wine Bar George, a counter-service restaurant in Disney Springs, the shopping area that's part of the Disney World complex in Florida. Unfortunately, they don't know of anywhere inside the actual park where these drinks can be obtained. But Disney makes it easy to get around its parks and other properties, so it wouldn't be that much of a chore to pop out of Epcot or the Animal Kingdom to grab lunch in Disney Springs. And considering the Froscato is part of the wine bar's weekend brunch offerings, we can think of no better reason to take a break from the rides and lines and kick up our feet for a while.
Disney Food Blog reports that they're pre-mixed and chilled, which makes them the perfect treat to combat Florida's never ending heat. The regular Dole Whip Froscato retails for $13, but for $15 you can get it "mimosa style" with an additional prosecco float on top. You're on vacation, so definitely do that.
They also say it tastes fruity and tropical, and that the addition of the booze helps tone down some of the Dole Whip's sweetness, so the result is a deliciously tart, tropical drink.
The only question that remains is whether these will be available with any of Disney's other Dole Whip flavors, like raspberry, lemon or mango. While the traditional pineapple is no doubt delicious, this combination would work well with any of the available fruit flavors.
How many days til the next school break? Time to book tickets for a Disney vacation this summer, because if summer needs anything, it's a steady stream of boozy Dole Whips.
In the meantime, you can always chill with a bottle of wine and watch your favorites on Disney+!
This article was originally published on