Disney World Is Getting Its Own Cirque Du Soleil Show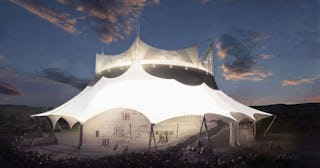 Disney Parks Blog
This new Disney show is going to be one you cannot miss
If there's any company that can give Disney a run for its money when it comes to putting on an incredible, immersive, downright magical show, that company is Cirque du Soleil. At the D23 expo, Disney executives made the announcement that their first Cirque show in more than 20 years is on the way. The yet-to-be-named show is coming to Disney Springs, a shopping area near Walt Disney World resort in Buena Vista, Florida, and is a collaboration between Cirque du Soleil, Walt Disney Animation Studios, and Walt Disney Imagineering.
The Montreal-based theater is the world's largest theatrical producer, putting on absolutely mind-blowing spectacles of shows in both residencies all over the world, and touring acts. If you've never seen Cirque in action, take a moment and hit play.
Cirque companies combine dance, stunts, and acrobatics, all set to music and telling a story throughout each show. To anyone who's visited a Disney park, that probably sounds pretty familiar, because that's exactly what their shows do, too. In fact, it's kind of surprising that Disney and Cirque haven't been a team all this time, given that they're basically the two most famous organizations in the world putting on these types of shows.
Disney and Cirque du Soleil teamed up for a show in 1998, but if you ask us, it's about time they did it again.
Reporters who were at D23 were able to find out a little more, and snag some photos from the presentation.
At the presentation, it was announced that the show will have an animation theme, and that the Cirque team has been working very closely with veteran Disney animators to bring a vision to life.
"For more than 60 years, we've been bringing Disney stories and characters to life in our theme parks around the world," Chairman of Disney Parks, Experiences and Products Bob Chapek said at the presentation. "Now our teams at Walt Disney Imagineering and Walt Disney Animation Studios have joined with Cirque du Soleil to create an entirely new experience that will wow Walt Disney World guests and bring timeless, enchanting Disney stories to life in an unforgettable new way."
The Cirque du Soleil announcement came during a session about what's new at Disney theme parks, where executives also announced a new parade called "Magic Happens," and a new Mickey-and-Minnie themed ride called Mickey and Minnie's Runaway Railway.
If you hadn't already been planning a trip to a Disney park in the next year or two, it might be time to start. Tickets are already on sale for the show, which will start previews in March of 2020 before it opens in April.
This article was originally published on