Disney World Closes Because Of The Coronavirus Outbreak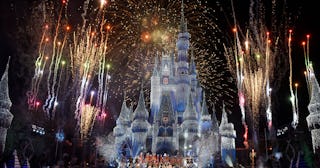 Getty
Disney World Orlando is closing its theme parks for the rest of March amid coronavirus concerns
Disney World — Disney's flagship theme park in Orlando — is closing its parks for the rest of March amid coronavirus concerns. Universal Orlando will also close.
"The shutdown, which begins Sunday and runs through the end of the month, affects Magic Kingdom, Epcot, Disney's Hollywood Studios and Disney's Animal Kingdom theme parks," The Orlando Sentinel reports. "Disney Cruise Line is also suspending all new departures beginning Saturday through March."
"In an abundance of caution and in the best interest of our guests and employees, we are proceeding with the closure of our theme parks," a statement ABC News shared on Twitter reports.
The company again confirmed that it would pay its cast members during the closure, and added, "The hotels at both Disney World and Disneyland Paris will remain open until further notice."
Universal Orlando will also close at the end of business, Sunday March 15.
Earlier today, Disney announced that both its California parks — Disneyland Resort and Disney California Adventure — will close from now until at least the end of March. This is the first time Disney parks have closed down since 9/11, and only the fourth time in the parks' 65-year history that they've unexpectedly closed for any reason. In a statement, Disney officials said the two parks will close as of Saturday morning, and they'd keep Disneyland hotels open until Monday to give guests time to make new travel arrangements.
There have been no cases of the novel coronavirus connected to Disneyland California or Disney World, but one worker at Disneyland Paris tested positive, according to CNBC. Disneyland Paris will close March 15 through the end of the month. Shanghai Disneyland and Hong Kong Disneyland have been closed since late January.
This article was originally published on