Disney Has New 'Magic Hours' And You'll Need To Get Up EARLY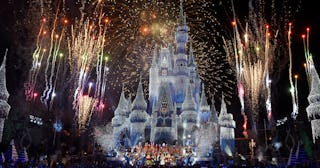 Todd Anderson/Disney Parks via Getty Images
Your early bird preschooler will be pumped — Disney's "Extra" Extra Magic Hours are coming this fall
Guess what, parents? Disney will now allow you to start the magic before your eyes are totally open with parks opening suuuuper early for a limited time this fall. Lets' face it — your kids are already awake and chipper AF at an absolutely ungodly hour, so might as well take advantage. Because nothing says "vacation with kids" like 1) not sleeping in at all 2) shepherding your toddler around a theme park before the literal sun is up.
Tired eyes. Full coffee mugs. No Snooze.
"From September 1 to November 2, 2019, Guests staying at Disney Resort hotels will have more opportunities to take advantage of the Extra Magic Hours benefit with extra, Extra Magic Hours! It's a special chance to enjoy more time at a select theme park—before the park's regular operating hours—to enjoy select attractions and experiences," Disney's site explains.
The breakdown of parks and their "Extra" Extra hours:
Disney's Hollywood Studios—including Star Wars: Galaxy's Edge, Toy Story Land attractions and more—from 6:00 AM to 9:00 AM daily
Disney's Animal Kingdom theme park—including Pandora – The World of Avatar and other attractions throughout the park—from 7:00 AM to 8:00 AM daily
Magic Kingdom park—including favorites in Fantasyland and Tomorrowland—from 7:00 AM to 8:00 AM daily
WHEW. That's a whole lotta extra hours of magic, y'all — 6:00 AM. Did you catch that? Ugh.
But as much as dawn at Disney sounds kind of exhausting, it's probably a pretty good thing considering most tiny children are at their most… shall we say, robust? … during the very earliest hours of the day. I watched enough 4:45 AM Disney Jr. with my son to know that at age three, 6:00 AM was the ideal time to have him waiting in line for rides. Was it my ideal time? Of course not. But this isn't about us, parents.
Also? The parks will likely be a whole lot less crowded than usual during these extra early hours, which is also a toddler perk. Standing in a ride line of any length while maneuvering a stroller with a small child is nightmare fodder, so this slower time will be a godsend for frazzled parents. Also also? You can work in several hours of fun and be back to your hotel room in time for that treasured late-morning nap that might translate to other fun later in the day. A rested kid is a happy kid. A parent with a rested kid is a happy parent. Everyone wins.
Now this perk, as you may have already deduced, is only available to guests staying at Disney Resort hotels, but there are other non-Disney resorts that still allow you to take advantage of the extra magical hours. They include: Walt Disney World Swan Hotel, Walt Disney World Dolphin Hotel, Shades of Green Resort, Disney Springs Resort Area Hotels, Four Seasons Resort Orlando, Hilton Orlando Bonnet Creek, and Waldorf Astoria Orlando.
The extra hours run from September 1 to November 2, and of course, are subject to change without notice if the Disney Parks gods deem it so. If you're an early bird or a parent of an early bird, you might want to book a little fall trip to the House of Mouse to get in a whole day's fun before most people have had even one coffee.