Disney World Now Has Mickey Beignets -- Yes Please
by Christina Marfice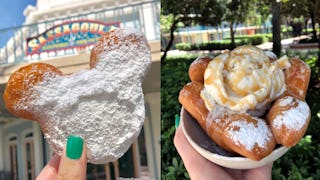 Images via Disney Food Blog
Disney World is finally serving up one of Disneyland's best treats: beignets
People have argued for generations over which Disney park is objectively the best one. And Disneyland (California) lovers have long had a big selling point for their park over Disney World (Florida): the Mickey-shaped beignets.
But this week, you may have noticed a shift in the very fabric of the universe, because something very big happened. Those little pillowy, powdered-sugar-dusted pastries are now available on both coasts. That's right. Mickey beignets have made their debut at Disney World.
Previously, you could only snag a plate of that deliciousness at Disneyland's Mint Julep Bar or Cafe Orleans, or at Downtown Disney's Jazz Kitchen. But now, Disney Food Blog spotted them for the first time in Florida, at Sassagoula Floatworks and Food Factory in Disney World's Port Orleans.
Sassagoula has sold beignets for a while, but they've always been the traditional pillow-shaped type. Mouse ears are a new addition to the sweet treats that happened more recently. And they go great with a scoop of ice cream in that Florida sunshine.
The new Mickey beignets come in plates of three or six, and you can add one of three dipping sauces — strawberry, caramel or chicory coffee ganache — for an additional price. After the menu switches over from breakfast to lunch, you can also get a beignet sundae: three of the sweet pastries topped with your choice of ice cream and a sauce or two.
https://www.instagram.com/p/BkaaVQQBCKx/?tagged=mickeybeignets
BRB, booking tickets to Florida right now because I need to eat one of those sundaes.
Now that one of the main advantages Disneyland had over Disney World has been equalized, it's a much tougher call for Disney fans trying to decide their preferred park. But considering Disneyland has its own brewery, we know which park is still getting our vote. Sorry, not sorry.