Man Arrested For Allegedly Groping A Princess At Disney World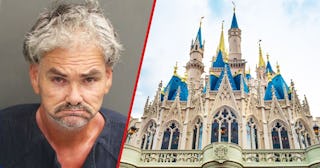 Orange County Sheriff's Office and Roberto Machado Noa/Getty
Disney World Photopass pictures were used to identify the man, who was later arrested
An Orlando man was arrested at Disney World last weekend after he allegedly groped a woman dressed as a Disney princess during a photo op.
51-year-old Brian Sherman was visiting Magic Kingdom with his wife when they stopped at a meet-and-greet location for one of the park's princesses. Police haven't revealed which princess the woman was dressed as, but she reported that Sherman got "very excited" and told her she was his "favorite" princess. So he and his wife posed with her, one on either side of her, essentially trapping her in the photo. She told police she was "physically stuck" between them.
That's a nerve-wracking situation to be in on its own, but it gets worse. The woman told police that Sherman threw his arm around her (something that isn't supposed to be allowed during photo ops with princesses at Disney World). He allegedly "repeated how much he loved" her, and then moved his hand lower until it was touching her bra.
The woman told police she was "immediately uncomfortable," especially considering the training she had received that says it's "inappropriate" for a park guest to touch a princess during a meet and greet or photo op. But sandwiched between Sherman and his wife, she said she was "unable to move."
That's when another employee saw how uncomfortable the woman was and tried to intervene, suggesting the couple move to a different pose. But instead of moving away, Sherman allegedly "cupped the victim's right breast with his right forefinger and thumb with only the thin skin-tight fabric in between her breast" and his hand. The woman said he "cupped and lifted" her breast for around four seconds, then moved his arm back around her shoulders for more photos.
The incident left the poor woman "shaking and crying," and who can blame her? That's some truly horrifying behavior. Luckily, it all happened at a meet-and-greet, where a Disney World Photopass photographer was snapping pics. The meet-and-greet room was immediately closed, and the photos from the incident were turned over to police to help them identify Sherman. He was arrested at the park later in the day. He was charged with battery, but has already bonded out of jail.
Police say the woman plans to testify against him in court in the hopes that he'll be prosecuted.
As if this story could get any worse, police records show that Sherman is a convicted sex offender who was found guilty of sexual battery of a victim younger than 12 in 1991.
A spokesperson for Disney World said the incident is now in police hands, but added, "Everyone should feel safe at work, and we encourage Cast Members to come forward in any uncomfortable situation."