Disneyland And Other California Theme Parks, Stadiums Can Reopen Next Month
by Julie Scagell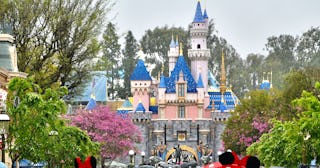 Jeff Gritchen/MediaNews Group/Orange County Register via Getty Images
California is planning to reopen many venues beginning April 1
Disneyland Resort in California will be allowed to reopen with capacity limits starting April 1, secretary of the California Health and Human Services Agency Mark Ghaly announced Friday. Similarly, the state will allow outdoor events at stadiums, ballparks and other venues. Magic Mountain and Universal Studios will begin reopening as well.
"We feel like now is the appropriate time to begin to reintroduce these activities in some fashion, and in a guarded way, in a slow and steady way," Ghaly said. "With case rates and hospitalizations significantly lower, the arrival of three highly effective vaccines and targeted efforts aimed at vaccinating the most vulnerable communities, California can begin gradually and safely bringing back more activities, especially those that occur outdoors and where consistent masking is possible."
The California Department of Public Health released its Blueprint for a Safer Economy guidelines last summer, which dictates how and when businesses will reopen. For counties in the state's most restrictive Purple Tier, outdoor sports and concerts will be limited to 100 people or less for in-state residents. Reservations will be required and concessions will remain closed. Attendance is capped at 20 percent in the Red Tier and 33 percent in the Orange, both which will only allow in-state visitors.
For an amusement park to reopen, the spread of COVID-19 in the county the theme park is in located must be reduced enough to move from Purple to Red, which the CDPH said will likely come in the next few weeks. Walt Disney World Resort in Florida reopened with capacity limits and a mask mandate back in July 2020, but California's park remained closed. Florida's Blizzard Beach water park is due reopen on March 7.
The news comes as other states begin lifting restrictions that have prevented the spread of the virus. Both Texas and Mississippi lifted mask mandates and are allowing businesses to reopen at full capacity, concerning many health experts.
"In Texas, where they removed the mask mandate, fewer than 10 percent of people have been vaccinated and the levels are higher than the levels were last summer when they put the mandates on in the first place," said Richard Besser, who served as acting director of the Centers for Disease Control and Prevention under former President Barack Obama.
"Our recent declines appear to be stalling — stalling at over 70,000 cases a day," CDC Director Rochelle Walensky said during a Monday White House press briefing. "With these new statistics, I am really worried about reports that more states are rolling back the exact public health measures we have recommended to protect people from Covid-19."
According to NPR, as of now, 87 percent of Californians (35 million people) fall within the state's Purple Tier. Disney specifically said it would take at least four weeks to rehire its employees and train them on new coronavirus safety protocols before reopening.