Disneyland Will Close For The Rest Of The Month Due To Coronavirus Concerns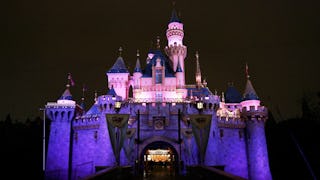 Frazer Harrison/Getty
This is only the 4th time in Disneyland's 65 year history the parks have been closed
Coronavirus continues to spread and cause fear and disruption across the country and around the globe. On the heels of announcements that multiple states are banning even some small gatherings of people, Disney announced that both its California parks — Disneyland Resort and Disney California Adventure — will close from now until at least the end of March.
This is the first time Disney parks have closed down since 9/11, and only the fourth time in the parks' 65-year history that they've unexpectedly closed for any reason. In a statement, Disney officials said the two parks will close as of Saturday morning, and they'd keep Disneyland hotels open until Monday to give guests time to make new travel arrangements.
To date, there have been no cases of the novel coronavirus tied to Disneyland. But as events and gathering spaces across the country are shutting down, Disney officials said they decided to comply with California Governor Gavin Newsom's order that gatherings of 250 or more people be canceled or postponed, even though Newsom later clarified that parks like Disney, Universal Studios in Los Angeles, and Knott's Berry Farm in Buena Vista are exempt from that order.
The two Disneyland parks, which are connected but separately ticketed, employ around 31,000 people. Disney did say in its statement that park employees will be paid during the closure. Guests will be issued refunds for tickets and hotel bookings as long as the parks remain closed.
This is only the fourth time Disneyland has closed since it opened in 1955. The first time was in 1963 for a national day of mourning after President John F. Kennedy was shot. The park then closed again in 1994 following California's Northridge earthquake, and on 9/11. This is the first time in Disneyland's history that both California parks are closed. The adjacent parks recorded 28.7 million combined visitors in 2018, according to the New York Times.
Disney's announcement follows news that the NBA will cancel the remainder of its current season after a Utah Jazz player tested positive for the coronavirus. Just today, New York banned gatherings of more than 500 people, causing the Broadway theater district to go dark. President Trump has banned most travel from Europe into the U.S. in an attempt to curb coronavirus infections here, but people have already tested positive for the virus in 45 states.
This article was originally published on