Disneyland Is Now A COVID Vaccine Super Site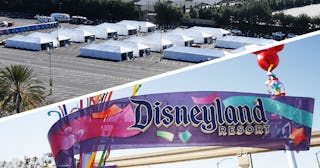 MediaNews Group/Orange County Register/ David McNew/Getty
Disneyland is now a COVID-19 vaccine super site in Southern California
After a slow rollout of the COVID-19 vaccine, many state and local governments are finally getting their act together in the quest to vaccinate the public and since Disneyland has been shut down since the pandemic began last March, it only makes sense to turn the Happiest Place On Earth into a COVID-19 vaccine super site.
Officials from Orange County, California announced the news late Monday night, saying the new Disney super site has the potential to vaccinate thousands of people per day. Though don't get too excited, that doesn't mean Disneyland is opening for tourists. The shut-down park will just be used as a vaccination site, though that's pretty exciting too, because #YayVaccines.
"Disneyland Resort, the largest employer in the heart of Orange County, has stepped up to host the county's first Super POD site — undertaking a monumental task in our vaccination distribution process," said acting Chairman Andrew Do, First District, in a statement (via NBC News). "We truly appreciate the support of the Orange County Fire Authority, our cities, and our residents as we continue to rollout COVID-19 vaccinations throughout the county."
The choice to do it at Disneyland makes sense as the park is currently closed and has the space to vaccinate lots of people per day. They are calling it a "Super POD (point of dispensing)" site.
However, it's not like you're getting a vaccine inside the walls of Cinderella's castle, the vaccine site is in the Toy Story parking lot in a series of tents, which have already been erected as of January 12, 2020.
However, if you're going to get the vaccine, how cool would it be to geo-tag "Disneyland" when you get the jab? Also, who knows how many adult Disney-lovers who are anti-vaxxers might actually get the vaccine now that they can brag they got the COVID vaccine at Disney? As a resident of Southern California, I hope to see a ton of "Got my Disney vax!" selfies on the timeline this year.
"It's important to vaccinate as many willing people as possible for COVID-19, and we need the space to do it," said a county supervisor in a statement. "I thank Disneyland Resort and the City of Anaheim for stepping up in the shared effort to give OC residents protection against the virus."
Currently only people in California's first tier (healthcare workers, law enforcement, and those over 75) can sign up to receive the vaccine. The Disney testing location is expected to be up and running by end of this week and people who qualify can sign up online, though the website does not appear to exist just yet.
And though it is currently open for guests — for some reason — Disney World in Florida could be the next massive vaccination site as Governor Ron DeSantis stated that you "literally could drop a bunch of vaccines at Disney…and knock that out pretty quickly" in a recent news conference.
This is a very cool effort on the part of Southern California to inoculate the masses. Put on your Mickey ears and get that vaccine!
This article was originally published on