An Entire Marvel-Themed Land Is Coming To Disneyland Next Year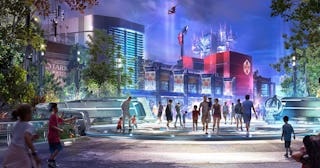 Disney Parks Blog/Marvel
Disney hasn't unveiled any details about its new Marvel Land, but construction has begun
It was only a matter of time. Just months after Disney opened its "Star Wars: Galaxy's Edge" worlds at several parks, another new themed land is coming, and of course it's Marvel. Construction has begun at Disneyland, and the newest Disney Parks expansion is set to open next year. Yep, Disney is wasting no time on this one.
Details are still pretty sparse because Disney hasn't revealed anything itself yet. We just have some details reporters have gleaned from building permits filed in Anaheim, which reveal that the new land is coming with bathroom overhauls, a huge retail area (gotta get that Avengers merch, yo), a character meet-and-greet area, new rides (duh), and, what may be our favorite addition, a themed microbrewery. The new world is going in Disneyland's California Adventures park, which means booze is 100 percent allowed. I'm not even the biggest Marvel fan, but sign me up for this.
Marvel Land (which won't be named that, because the name "Marvel" is not allowed to be used in any theme parks) is replacing what used to be A Bug's Land, based on A Bug's Life, which closed last September. Disneyland visitors have already noted that construction is underway, behind fences with the "Stark Industries" logo from the Avengers franchise.
This land will be adjacent to what used to be the Tower of Terror ride, which was remodeled with a Guardians of the Galaxy theme last year. It'll be interesting to see how Disney expands and reshapes the park because it seems safe to assume the tower ride will belong in the new Marvel land. This is Disney we're talking about, so we're sure they'll find a way to tie everything together in the most immersive possible way.
Disney hasn't officially revealed anything yet, so there are some questions about whether this new land will open just at Disneyland in California for now, or if Disney Parks worldwide will be getting this expansion. Some sites are speculating a Marvel Land is also planned for Disneyland Paris. When I was at Tokyo Disneyland in April, an area near Toon Town was blocked by construction fences (minus the Stark Industries logo), and what was behind them looked pretty Marvel-ish to me. And Hong Kong Disneyland already features several Marvel themed rides in an area of the park that's under heavy construction. When I visited in 2017, I remember thinking that it felt like the goal was to turn that area into an entire Marvel themed world. Now it seems even more likely that that's the case.
For now, there's a lot of speculation around this. What we know for sure is that construction is currently happening and the Marvel-themed land will open at Disneyland in 2020. We also expect that we'll learn more at the annual D23 Expo in August.
Until then, we'll just be hoping for more leaks or photos and watching our faves on Disney+ (now available for $6.99/month).
This article was originally published on