Disneyland's Rose Gold Minnie Mouse Macarons Are Almost Too Pretty To Eat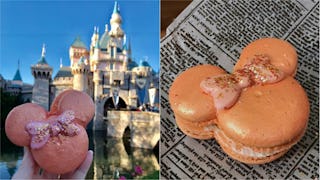 Image via Disney Food Blog
Drop everything and head to Disneyland for the prettiest sweet treat
At all of Disney's parks, the most attention is put into making sure every detail is perfectly on theme. And for this lifelong Disney lover, one of the most delightful ways that's achieved is through themed foods. Give me Mickey-shaped waffles for every breakfast. When the ketchup for my fries is served as three Mickey-shaped blobs on a plate, I'm filled with glee. I once had a slice of pizza on which every piece of pepperoni had been painstakingly cut into a Mickey shape, and it was the most delightful slice of my life.
So excuse me while I book a ticket to Disneyland right this minute, because the park's new rose gold Minnie Mouse macarons satisfy both my inner Disney-lover and my unapologetically basic millennial side in the best possible ways.
https://www.instagram.com/p/BgzB_tAhGMe/
Yep, that's right. That's a classic French macaron, made in the shape of Minnie, rose gold in color, and complete with a pink, sparkly bow. As someone who's tried and failed at making just a regular circular macaron, this seems like witchcraft, TBH. I'd say it's too perfect to eat, if it weren't for the fact that it's probably absolutely delicious, like most other Disney park treats.
Instagrammers are saying the sweet treats debuted Monday and that they're only available at Disneyland in California, for now. To snag one, you're going to have to head to Jolly Holiday Bakery Cafe. Disney Food Blog says the cookies are filled with strawberry compote and lemon verbena buttercream, and fans report they taste like Fruity Pebbles. Yes, please.
This comes on the heels of a whole line of rose gold treats available at Disney World, in Florida. You know, just in case you had any doubts about where to plan your next family vacay.