Book That California Flight Because Disneyland Is About To Serve Booze
by Christina Marfice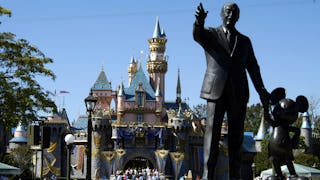 Image via Barry King/WireImage
After 63 long years, you can finally get the adult beverage you deserve at Disneyland
Disneyland is absolutely the happiest place on Earth. But after walking one zillion miles and standing for hours in lines and herding children and paying $74 for every food item, no matter its size, you deserve a freaking adult beverage. And finally, at Disneyland, you can get it.
When Star Wars: Galaxy's Edge opens at both Disneyland and Disney World in 2019, it will include Oga's Cantina, the official first public place where visitors can buy alcohol at Disneyland (not counting Club 33, a private VIP bar hidden in New Orleans Square). Every other Disney park, both internationally and in the U.S., includes places where park visitors can (responsibly) get their booze on. But ol' Walt specifically wanted Disneyland to be dry, so it has remained that way for the 63 years it's existed.
But times they are a changin'.
Disneyland visitors could pop over to Disney California Adventures and grab a beer (even a specialty microbrew made at the park's own brewery!), but once they set foot back in the Magic Kingdom, it was back to Dole Whips and Diet Cokes. We're not complaining, per se. Disneyland doesn't need booze to be fun. It's just nice to have the option of a refreshing, relaxing beverage at the end of a long day waiting in line for Space Mountain and telling your preschooler for the 48th time that the souvenir money well has run dry.
No opening date has yet been set for Oga's Cantina's opening. We also don't know what kind of drinks will be available — like whether it will stick to beer and wine like some other Disney parks, or have a full bar available. According to a Disney Parks blog, "Oga's Cantina is the kind of establishment that attracts some of the most interesting and disreputable characters in the galaxy. And you never know when a stormtrooper or a familiar face will show up. Patrons of the cantina come from across the galaxy to sample the famous concoctions created with exotic ingredients using 'otherworldly' methods, served in unique vessels. With choices for kids and libations for adults, the cantina will make for a great stop!"
But knowing Disney, this place will be amazingly on theme, and filled with small Star Wars details that will delight any fan. We're excited about the chance to finally get our drink on in Anaheim, but we also have a feeling that once we set foot in this new Disneyland spot, we'll be too busy exploring to spend too much time at the bar.