Disney's LGBTQIA+ Inclusivity Feels Like False Advertising
by Amber Leventry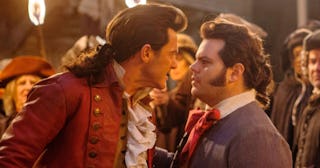 DISNEY
Disney Pixar's newest movie Onward is being celebrated for providing much needed representation for the LGBTQIA+ community. The openly queer and amazing Lena Waithe voices a lesbian cop in the film. Onward's director Dan Scanlon confirmed Waithe's character is gay: "It's a modern fantasy world and we want to represent the modern world." But Pixar hasn't said a lot otherwise.
They didn't need to say anything, however, to open the media floodgates that poured articles congratulating the company for their queer inclusivity. We can give Disney accolades for doing the right thing by portraying a gay character and by allowing that character to be voiced by a member of the queer community, but we should also be holding them to higher standards. Disney can do better in terms of providing true LGBTQIA+ representation, and we should be demanding that they do so.
With their silence, it's almost like Pixar was outed for having an openly gay character. Unlike outing a member of the queer community, Disney Pixar has benefited from being dragged out of the animated closet. Not saying much is a great move. They knew word would get out one way or another. They knew plenty of people would say that including a gay character is sacrilegious, not suitable for kids' consumption, and anti-family. They didn't put themselves in a position to defend or explain themselves. They have already anticipated the boycotts. They knew they would be praised too. Not saying anything seems to send a message: Of course we included a character that happens to be gay. That's how the world works. What's the big deal?
The big deal is that it feels like false advertising.
Disney knows the desperation felt by marginalized communities, and they have addressed it by diversifying racial representation. But they have been slow—too slow—in adding characters from the LGBTQIA+ community. We got excited when we thought we saw a two-mom family in Finding Dory and we got even more excited when Josh Gad's LeFou was gay in Beauty and the Beast. There were even rumors that Toy Story 4 had two women dropping their daughter off for kindergarten. Disney does a good job showcasing these characters as everyday folks living their lives, which is true to form, but does a horrible job making these characters as much a part of the movie's world in a way the truly represents the presence of queer people in real life.
Yes, the glimpses of queerness found in some of Disney's movies like Onward are great ways to ease folks into the idea that queer people exist and that we deserve to be seen, but the message is still that we can't be present for more than a few scenes and our voices are only worth a few lines.
Waithe's character, who is a lesbian police officer, has a small role. She appears in one scene and says, "My girlfriend's daughter got me pulling my hair out," in response to a driver saying he was distracted by his girlfriend's sons. Relatable. Safe. Easy to miss or dismiss. There is barely more than code in this dialogue for adults and queer kids looking for a hidden rainbow as if it is a Disney Easter Egg.
Kids see straight folks falling in love all of the time, even with (gasp!) kissing and straight weddings. They continuously see straight people raising kids. Straight heroes. Straight neighbors. The assumption is that all of these characters are cisgender too. These characters are seen in a variety of relationships and their meaning is understood based off the interactions they have with others. To the straight kid or adult who needs to see a gay character in order to become better allies, Waithe's character may be misunderstood because she is only seen alone and "girlfriend" could simply mean a friend who is a girl.
Disney has more money than God and likely more queer people working for them than the population of a small country. I am still working on finding real-time stats for these claims, but a report shows that Disney's net income in 2019 was $10.44 billion dollars. And they continuously earn perfect scores on the Human Rights Campaign's Corporate Equality Index, making them one of the best places for LGBTQ people to work. Add the queer community's almost $4 trillion in purchasing power and I am left wondering why we are so busy congratulating Disney and many other big companies for throwing the queer community some scraps of hope and calling it inclusivity. They have money to burn and we have money to spend.
Sadly it's because even with these underwhelming moments on screen, it is all we have to cling to and more than we have ever had. But there is a fine line between acceptance and complacency.
I am thrilled that there is an openly queer character that the world will be exposed to; I am even more thrilled that Disney has acknowledged this gay character, unlike the director from Finding Dory who said the two moms "can be whatever you want them to be." I am glad Disney is using its power to "normalize" what is already normal. Because I want and need gay kids to know they are not alone, especially the queer kids of color who can look to Lena Waithe and see themselves in a Disney movie.
But I also want and need all kids who identify as something other than straight, cisgender, or gender conforming to know that their lives are valid and worth portraying for at least 90 minutes on a big screen. In order to be accepted and to feel valid, the queer community needs to see itself to feel seen. And if folks are only comfortable when we are present in small doses or quick-passing frames, imagine how fucking uncomfortable we are to know our presence is "too much" for mainstream audiences.
I accept that progress is slow. But in order to speed it up, we need to demand to see a queer character in every movie. We need more screen time. We need stories that show us as more than tropes. I refuse to accept the bare minimum lest folks become complacent and assume we are satisfied with bit parts.
This article was originally published on