I'm Ditching My Family This Mother's Day
by Alison August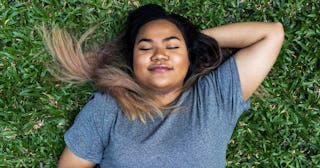 Amanda Mustard / Getty
Being a mother is wonderful. There is truly no other gift in life that comes close to the pleasure and fulfilment I have received from being a mom to my two kids. They're funny, sweet and, in my humble opinion, a little bit brilliant, too. This Mother's Day, to celebrate being a mom to my wonderful kids, I want to spend the day without them.
Yup, you read that right! This Mother's Day, no kids allowed.
Because as wonderful and brilliant as my children are, they are also very needy and sometimes even a little bratty. Their dad might be sitting right next to them while I'm upstairs stealing a few moments to myself in the bathtub, and they will inevitably get up, climb the stairs, and interrupt my time-out to ask if they can have a granola bar. Every. Single. Time.
My husband, who's a wonderful guy and good at SO MANY things, is not especially skilled in the "spoil your wife rotten" category. He will likely do something thoughtful with the kids like breakfast in bed, and he may even take our seven-year-old daughter out to one of my favorite stores to pick up a gift for me. All of which is lovely and very appreciated. But let's face it, that will only eat up about 30 to 45 minutes first thing in the morning. And then I'll have the entire rest of the day to spend parenting my kids, breaking up arguments, and making peanut butter sandwiches.
I have three words: Not. This. Year.
This year, I'm taking matters into my own hands and planning a day to enjoy the things I love doing away from family. Sound a little bit selfish? Good, it should.
This is a page out of the Father's Day book. What do we do for the dads in our lives on Father's Day? We send them out golfing. We take the kids off to the zoo or the park so they can enjoy some peace and quiet. In short, we give them a break.
I actually know a dad who booked himself a massage on Mother's Day so that his wife could spend quality time with the kids. I kid you not, that is a TRUE STORY.
Last year, at the end of the day on Mother's Day, I remember feeling that, all in all, it felt just like any other day. I tidied up after people, I made lunches, I loaded the dishwasher, and I negotiated screen-time debates with my kids. Truthfully, I think my husband might have even spent a few hours at the office that day (never a surprise since he's an entrepreneur and there is always something to do). That evening, I felt a bit deflated and, honestly, dissappointed.
I always seem to romanticize the possibility of these special occasions as they're approaching and wait for someone else (in this case, my husband) to fulfil all the imagined activities and gifts lavished on me throughout the day. In his defense, it would be tough to live up to my Mother's Day fantasies even if he were trying, which, I am fairly certain, he's not.
What I need to remember is if I'm waiting for someone to offer me a break, I'll be waiting for a looong time. It's up to me just to take the break. Unapologetically, too. The whole exercise of break-taking is wasted if I leave for a day to myself and then spend it feeling guilty for not being with my kids.
No, that won't do. Do dads feel guilty on the golf course for five hours on Father's Day? Do they worry about how we're doing at home while floating out in the open water on a fishing boat? No. They don't. And they shouldn't!
So, let's take what's ours and enjoy it!
This Mother's Day, you won't find me spending the day at the park with my kids. I won't be going to the zoo or the museum or any other local attractions for some "family fun."
To celebrate this Mother's Day, I'm picking up my own mom (who is also my biggest helper and cheerleader), and we're having a girls' day. Lunch, shopping, and the whole nine yards!
I will leave my family at home for many hours and enjoy a day doing all the things I like to do. Because I happen to know that as long as I am in the company of my children, whom I love more than anything, I will not be getting the well-deserved break that all moms should enjoy on Mother's Day.
This article was originally published on