19 Books You Should Consider Purchasing For Your Child's Classroom
by Brandi Jeter Riley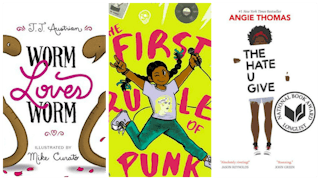 Amazon
One of the very best jobs I ever had was being responsible for purchasing books for grade school aged kids for summer camp and after school programs at a non-profit. Publishing houses would send me advance copies and I'd pour over picture books, memoirs, and YA novels as if my book order was the most important decision in the world.
In some ways, it was. We were in neighborhoods where households averaged a total of 0.5 books in their home. That's half a book, y'all. Half. In some of the schools where we facilitated programs, kids shared textbooks because there weren't enough to go around. The school libraries were closed or filled with old, outdated books. The books our program provided was sometimes the only recreational reading material our students had access to.
The lack of books may not be that drastic in other districts, but many schools regularly deal with budget challenges. When I buy a book for my daughter, I often buy a second one and send it to school with her. Want to support your child's classroom, too? Here are some books featuring relevant, timely, and diverse themes that you should consider purchasing and sending to school in your kid's backpack.
Elementary School
Two little worms fall in love and want to get married in J.J. Austrian's Worm Loves Worm. Everyone wants to know who is going to wear the dress. This book is a sweet way to talk to the youngest students about gender, love, and what's considered "normal."
Being a kid is rough. The thoughtful affirmations in I Am Enough by Grace Byers help students learn to lean on their inner strength. I've used affirmations in the classroom with students, and I know how powerful they are. It might seem weird for the students to hear words of outright self-love and positivity, but they'll get used to it.
Girls and boys will meet an interesting collection of amazing women in Rad Girls Can by Kate Schatz and Miriam Stahl. The book goes beyond features of girls we've already heard of, and introduces readers to new heroes. Students will see that girls just like them, are capable of doing extraordinary things. The stories are the perfect length for teachers to read aloud, too!
There's so much talk about immigration in the news, but it's likely confusing to most kids. Dreamers by Yuyi Morales is a gorgeous book about a mother who immigrates to America with her infant son. As she gets used to her new surroundings, she discovers a wonderful world in the library through books. Once they find out that this book is based on the author's real story, it will likely blow students away.
When Virgil gets stuck in a well, classmates Kaori, Gen, and Valencia set out to find and save him. Students will be able to see themselves and their classmates in the rich and diverse characters in Hello, Universe by Erin Enstrada Kelly. While students will see a lot of bullying in the book, teachers will appreciate the opportunity to have deeper than normal discussions about friendships.
Gorgeous pictures and peppy, upbeat prose make Crowns: Ode to the Fresh Cut, a fun read for the whole class. The fact that it celebrates black boys, who are often overlooked in literature makes this book extra important to the bookshelf. Teachers could use this book to lead into lessons celebrating being unique, and students will love to share what makes them standout after reading Crown.
A super fun, laugh out loud book that teaches empathy without being preachy, teachers will appreciate having a copy of We Don't Eat Our Classmates by Ryan T. Higgins of their own. An instant classic, I even reference this book with my daughter in conversations about how to treat (and expect to be treated by) her friends.
It's easy for adults to appreciate differences, but kids really just want to fit in. The Day You Begin by Jacqueline Woodson empowers students to own what makes them unique, and reminds them that no two kids are the same. From the lovely pictures to the spot on prose, teachers will get a lot of use out of this book.
Middle School
Wonder, R.J. Palacio
Wonder by R.J. Palacio is a story about Auggie, a young boy with a facial abnormality. Students are so used to be told things in third person, that this depiction of what it's like to live with a visible difference is sure to impact the way they think about the people around them. Teachers will love that Wonder was adapted into a movie, so after reading the book, the class can watch the film as a treat!
The First Rule of Punk by Celia C. Pérez is about twelve-year-old Malú, a Mexican-American girl who moves to a new state and a new school. She starts a punk band, edits a zine, and is one of the most interesting middle school characters I've seen in awhile. Students will appreciate Malú's spunk, and be inspired to be their own, unique selves.
Willa of the Wood by Robert Beatty is a fantastical mystery set in 1900 in the Great Smoky Mountains. Willa is an orphaned night-spirit who has starts to question everything she thought she knew about who she is and where she comes from. Middle schoolers will love the fast moving story, and more perceptive students will be empowered to speak up for things they see in their society that's wrong.
A great book for the classroom, First Generation: 36 Trailblazing Immigrants and Refugees Who Make America Great by Sandra Neil Wallace and Rich Wallace will educate students about how much of an impact immigrants have on American society. Teachers will love adding this resource to their social studies program.
Refugee by Alan Gratz is a story about three brave young people: Josef,a Jewish boy living in 1930s Nazi Germany, Isabel, a Cuban girl in 1994, and Mahmoud, a Syrian boy in 2015. Their lives as refugees are shared in such a way that students will moved and have a better understanding of what some of their fellow humans actually experience when they are forced to leave their homes.
Ally is super smart, but is too ashamed to admit that she has trouble reading. In Fish In a Tree by Lynda Mullaly Hunt, students will about dyslexia, and discover that having a learning challenge isn't the end of the world. Teachers will also like seeing an educator character who is empathetic and kind in Mr. Daniels.
There's so much to love about Lily and Dunk by Donna Gephart. Dunkin has bipolar disorder, and Lily is a transgender girl. The two are best friends and support each other through bullying, family issues, and other hard middle school issues. Students will get a lot from this book that represents a modern and real middle school experience.
High School
High school students are more politically and socially conscious now than ever. The Hate U Give by Angie Thomas is about Starr Carter, a teenager who becomes an activist after her friend is killed by the police. While the book is raw and highly emotional, it's an absolute must-have for high school libraries. Kids are smart, and this book will give them a chance to express their thoughts about the country's climate in a safe way.
Students will love this book about Daisy, a high-schooler who becomes an overzealous ally for her best friend Ally after she comes out as gay. The Inside of Out by Jenn Marie Thorne is a quintessential teen drama that happens to be inclusive and representative of what high school is really like these days. A good one for the library and free reading shelf, this would have been the kind of book I would have adored in high school.
Meet Cute, Jennifer L. Armentrout
An anthology featuring stories of how people met is sure to be well-receive by highly connected high-schoolers. Jennifer L. Armentout's Meet Cute celebrates (safe!) new friendships and relationships starting. Since kids hear so much about the danger of strangers, especially during this tech focused time we live in, it's nice to have a book that reminds kids that they can still meet folks the old-fashioned way.
Hate crimes are unfortunately a part of the world we live in. We don't have to accept it, though, and if anyone is going to change things, it'll be high schoolers. In The 57 Bus: A True Story of Two Teenagers and the Crime That Changed Their Lives by Dashka Slater, students will read the real story of how a one teenager viciously assaulted another teen because of how they looked and the aftermath of that action. It's not an easy read, but one that's important and will offer an opportunity for real conversation between students and their teachers about acceptance and tolerance.
Teachers often have to choose between a diverse class library or copy paper. That's where we parents come in. We can bypass all of the red tape and politics that it takes to get titles into the classroom, and just purchase them ourselves.
Editors may receive samples and/or a share from purchases made via links on this page. All opinions are our own.
This article was originally published on