A Record-Breaking Number Of Women Were Elected Last Night
by Christina Marfice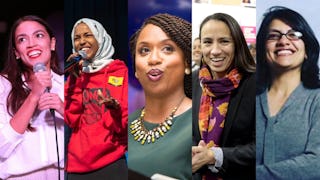 Images via Whitney Curtis//Rick Loomis/ KEREM YUCEL/AFP/ Scott Eisen/Getty Images/Rashida Tlaib/Facebook
Women scored seats in record numbers and people of color made historic gains in the 2018 midterm election
Despite the general doom and gloom feeling surrounding American politics of late, there's a lot to celebrate as the 2018 midterm election results finish rolling in. While some races still haven't even finished counting, it's already a historic year simply due to the number of women, people of color and other underrepresented voices that have won government seats.
In fact, more women are now in the House than America's ever seen before.
While the country still has a long way to go to achieve a truly representative governing body, last night put us several big steps in the right direction. Here are all the winners who made history for diversifying our government.
Alexandria Ocasio-Cortez and Abby Finkenauer
Ocasio-Cortez made a ton of pre-election buzz as her campaign for democratic socialism gained steam, and with her win, she becomes the youngest woman ever to be elected to Congress at just 29. The New York Democrat now represents the state's 29th district, the Bronx, after defeating powerful 10-term congressman Joe Crowley in the primary.
Abby Finkenauer, also 29, is only slightly edged out for the title of youngest woman ever elected to the House. But she just became Iowa's first congresswoman, beating two-term republican Rod Blum.
Ayanna Pressley and Jahana Hayes
Somehow, in 2018, there are a ton of states that have never before elected a black woman to Congress. For two of them, that changed last night.
Ayanna Pressley, the first black woman to serve on Boston's city council, defeated 10-term Michael Capuano in the primary and ran unopposed in the general election, securing her seat as not even just the first black woman to be elected to the House of Representatives from Massachusetts, but the first black person, period.
Jahana Hayes, who was a first-time political candidate after winning Teacher of the Year in 2016, won in Connecticut, making her the state's first black congresswoman. Together, she and Pressley are the first two black women to represent New England in Congress.
Rashida Tlaib and Ilhan Omar
Rashida Tlaib ran unopposed in Michigan's 17th district on a platform of Medicare for all, a higher minimum wage and abolishing ICE, all but guaranteeing her spot as one of the first two Muslim women to be elected to the United States Congress. She's also the first Palestinian-American woman to win a seat.
And Ilhan Omar, a refugee from Somalia, became the first Somali-American and the other of the first two Muslim women ever to be elected to Congress. She is also the first woman in Congress to wear a hijab.
Sharice Davids and Deb Haaland
In several states, Native Americans also saw historic wins.
Sharice Davids, an openly gay member of the Wisconsin-based Ho-Chunk Nation who worked in the Obama White House, just became one of the first two Native American ever elected to Congress after winning her race in Kansas.
In New Mexico, Democratic citizen of the Pueblo of Laguna tribe Deb Haaland won her congressional bid after being the state's first Native American woman to chair a state political party. Her strongly progressive platform supports Medicare for all and a $15 minimum wage.
Veronica Escobar and Sylvia Garcia
While Texas' population is more than one-third Hispanic, the state just elected its first ever pair of Latina congresswomen.
Veronica Escobar won in El Paso, which is Beto O'Rourke's former district.
And Sylvia Garcia handily defeated her republican opponent in Houston.
Young Kim
The votes are still being counted, but it looks like Young Kim is going to narrowly take California's 39th district, making her the first Korean-American woman in Congress.
Congress may be getting younger, more gay and less white, but it still doesn't represent the demographics of the Americans it's supposed to speak for. The only way to change that is to continue voting and make every election as historic as this one was.