There's A Major Lack Of Diversity In Children's Books
by Sa'iyda Shabazz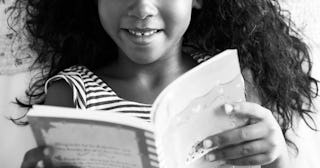 monkeybusinessimages/Getty
Reading, and creating a love of reading, is important for kids. And there is no shortage of books for children out in the world. But in spite of that fact, there aren't nearly enough books featuring kids of color. Diversity in children's books has made great strides over the last five years or so, but there is still a long way to go.
An infographic was recently released showing just how kids of color are underrepresented in children's books. And it's incredibly troubling.
The infographic was created from information compiled by David Huyck and Sarah Park Dahlen. Working with Edith Campbell, Molly Beth Griffin, K. T. Horning, Debbie Reese, Ebony Elizabeth Thomas, and Madeline Tyner, this infographic is an update from 2015 statistics. Statistic compilation comes from Cooperative Children's Book Center, School of Education, University of Wisconsin-Madison, and reflects the percentage of books that depict characters from a diverse background.
According to the information provided, the CCBC "receives most, but not all, of the trade books published annually in the United States by large corporate publishers. The CCBC also receives books from some smaller trade publishers in the United States and a limited number of series or formula non-fiction books published here." For 2018, they had 3,134 books in their inventory.
As you can see in the infographic, diversity in children's books needs a lot of help. Only one percent of children's books feature main characters that are American Indians/First Nations. We also know that American Indian/First Nations people face all kinds of systemic mistreatment at the hands of the American government. Latinx and Asian Pacific Islander/Asian Pacific American kids only fare a little better. Books featuring black kids are the only ones to crack double digits and that's very narrowly.
I can assure you, this doesn't come as a surprise. As a black kid growing up in the '90s/'00s, there wasn't much diversity in children's books. In terms of mainstream books, little black girls had Jessi Ramsey from The Baby-Sitters Club and Addy from the American Girl books. Jessi was at least contemporary, even though she lived a very specific kind of life. Many books for black kids back then focused on things like the Civil Rights Movement, or like Addy's books, slavery. There weren't many books about black kids just living their lives. Pretty much all the books I read and loved as a kid featured white main characters.
But it is worth noting that the numbers on the more prominent featured groups have changed since 2015. While white kids still see themselves in 50% of children's books, that's actually down from 73.3%. On the other hand, books featuring animals and other inanimate objects has actually jumped from 12.5% to 27%.
By now there should be much higher numbers of books out there featuring kids of color as the main character. It goes beyond the importance of kids seeing main characters who look like them, though that is obviously a huge part of it. Kids need to understand the world outside of their own bubbles. One of the best ways to do that is through books. If a white kid reads a book about a Latinx kid, even if they don't know any, the pathway of empathy will exist.
If you want concrete proof of the gaps of diversity in children's books, look at the books on the children's bestseller lists. Middle grade books are geared towards upper elementary to middle school aged kids, since they're usually chapter books. There isn't much in terms of diversity, especially when it comes to book series. All of the list's mainstay books (books that have been on the list for over 100 weeks) feature white main characters and are by white authors. Jeff Kinney and the Diary of a Wimpy Kid books dominate middle grade.
When it comes to picture books, animals are popular — there are three books featuring animal protagonists. Of the picture books on the bestseller list that do feature human protagonists, all of the children in the stories are white. The Day the Crayons Quit has been on the list for 275 weeks, and it's about inanimate objects.
Books written for young adults, which still fall under the umbrella of children's literature, are ahead of books for younger children in terms of representation. Half of the books on the Young Adult Hardcover Book bestseller list are by authors of color featuring characters of color. Angie Thomas is twice a New York Times Bestseller — her book The Hate U Give has been on the Young Adult Bestseller list for 121 weeks. It was also adapted into a successful movie starring Amandla Stenberg last fall. Her second book, On the Come Up, has also been a mainstay on the list since its release earlier this year. And its film adaptation is currently in development.
In addition to Thomas's two books, there are two books by author Elizabeth Acevedo (The Poet X and With the Fire on High) and Tomi Adeyemi's Children of Blood and Bone, which has been on the list for 68 weeks, the second longest. Adeyemi's book, which is the first in a series (the second book is set to release at the end of the year) is also in development as a feature film. And Jenny Han's To All the Boys I've Loved Before series, the first two which have been adapted for film has been on the Children's Series bestseller list on and off, but fairly consistently since the release of the first film last summer. All three books have made the list upon their release.
So yes, diversity in children's books is certainly making strides. But the changes aren't coming fast enough. Authors of color are having these conversations publicly, but the powers that be still refuse to listen. The proof is in the pudding, though — it's not just black kids keeping The Hate U Give on the bestseller list every week. White kids want diverse stories too.
If you want to know the easiest way to help, buy your kids books about kids of color. Money and numbers talk. And diversity in children's books will only continue to grow if we keep buying.
This article was originally published on