Here's What You Need To Put On Your Divorce Checklist
by Team Scary Mommy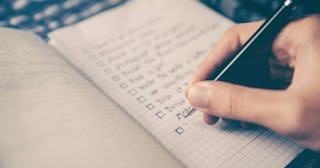 Glenn Carstens-Peters/Unsplash
Getting divorced can be an incredibly stressful, financially and emotionally draining process. Whether you're just considering it, or have started to move forward with a divorce, there is so much to think about and get in order before the actual proceedings begin. One way to make the process a little smoother is to put together a divorce checklist.
If you don't know where to start, you're not alone in this one. That's why, according to the latest search data available to us divorce checklists have a search volume of nearly 1,300 per month. When you meet with your divorce attorney for the first time, you're going to want to go into divorce proceedings prepared with all the documents you may need to help move things along. Even so, you should be prepared for a long process, especially if there are kids involved and your partner is contesting some of your terms. Which brings us to this: before you go in to meet an attorney, sit with yourself for a moment and think about what you want, what are the terms that make the most sense to you, both when it comes to division of assets and child custody. Your divorce attorney can only advise based on past clients and cases, but only you know the dynamics in your own marriage and what you want out of these next steps.
Whatever your ideal terms may be, here's what you need to put on your divorce checklist to make sure you're as prepared as possible.
Finances
A large part of any divorce is the financial component: how you and your soon-to-be-ex-partner are going to split up your assets. The best way to understand what you're working with is to put any relevant financial documents together. "You will need to keep in mind that documents should cover your long-term history, not just the most recent transactions," Shawn Leamon at Divorce and Your Money writes. "The gold standard is that your documentation should cover five years' worth of data. Perhaps this information is unavailable, or the marriage did not survive that long. Either way, three years' worth of data should be sufficient to help your team assemble a settlement that you will be satisfied with." These documents include:
Income tax returns
Employment records
Financial records (such as bank statements)
Investment account statements
Pension plan information
Retirement savings accounts
Children's bank accounts
Debt records
Wills and trust agreements
Social Security statements
Credit report
Monthly budget worksheet
Money you are owed, including names of those who owe you money, how much they owe, and the expected payment date.
Expenses for various lifestyle costs (e.g., school tuition, unreimbursed medical bills, music or dance lessons for children, etc.)
Student or other education-related loans
Login information for joint accounts
Both partners' employer benefits
Assets
In addition to finances, you're also going to want to come prepared with what, exactly, each partner brought to the marriage — at least when it came to assets. Be sure to have documentation for the following:
Marital home information
Information about other real estate
Any inheritance either partner has received or is set to receive
Vehicle information
List of contents in safety deposit boxes
Personal property (including jewelry, artwork, collections, and antiques)
Personal Data
Also come prepared with personal information about you, your spouse and your children. This includes the following data and documentation:
The date of marriage
The marriage certificate and/or license
Birth certificates for children
Birthdates for you, your spouse, and your children
Social security numbers for you, your spouse, and your children
Information about previous marriages, including divorce decrees
Prenuptial or postnuptial agreements
Judgments and pleadings that involved either spouse
Insurance policies
Other Information
If there are any specific incidents or circumstances that have led to your divorce, keep a record of these events, and bring them with you when you meet your divorce attorney. "This documentation could factor into the final amounts of spousal support payments, and it could help make decisions about the custody of any children involved in the split," Leamon writes. That includes compiling proof or documentation on any of the following:
Abuse (domestic and child)
Adultery
Kidnapping
Bullying
Substance abuse
Mental illness or instability
Information That Will Need to be Changed
After the divorce, there will be a number of important documents and policies that will have to change. Bring a list of these to your meeting as well. Examples include:
Life insurance policies
Wills
Powers of attorney
Advance healthcare directives
Bank accounts
Credit card accounts
Trusts, annuities, retirement funds
Does divorce affect my credit score?
The straight answer is no, but, it could. Filing for divorce won't affect your credit but if as a result of the division of assets and debts a payment is late or missing, your credit might take a hit. That's because there's a shared responsibility to pay off any debts you acquired together with your partner during your marriage. Additionally, according to Experian, splitting up joint accounts can have an impact on your credit history and score.
During divorce proceedings, it's important to close all shared bank accounts and not stop paying bills lest it impact your rating. Per Experian, even if a judge orders an ex spouse to pay a pill it is still your responsibility to make sure it is paid as you are jointly responsible for any expenses racked up during the marriage.
Yes, this seems like a lot — and it is. Dissolving a marriage can be complicated, but being as prepared as possible can make the whole process a little smoother and less painful.
This article was originally published on