Dixie Chicks Release 'Gaslighter' And It's Their First Single In 13 Years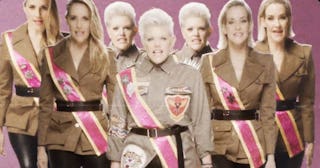 Dixie Chicks/Youtbe
Dixie Chicks release new single "Gaslighter"
After 13 long years, the Dixie Chicks (Natalie Maines, Emily Robison and Martie Maguire) are finally back with a new single. On "Gaslighter" Natalie Maines sings about an ex that lied to her and gaslighted her, and the trio proves they're back and better than ever.
It wasn't long ago that female musicians were muzzled, silenced, and cast away for daring to speak their mind about politics, which is why in 2003, the Dixie Chicks were canceled by their mostly-conservative fanbase for having the bravery to speak openly about their disappointment with then-president George W. Bush. After Maines said she was "ashamed" of the president, they were abandoned by the fans.
Now, clearly giving zero effs anymore, Maines takes front and center in the new song and video for "Gaslighter" which tells the story of her divorce from actor husband Adrian Pasdar. Though the women sing about lies and gaslighting in a marriage, the three are adorned in military-Esque fatigues marching through the video as historical and political imagery plays in the background, suggesting that Maines' "Gaslighter" ex is following in a the footsteps of many historical figures before him.
Co-produced by Jack Antonoff — who frequently collaborates with Taylor Swift — the song is already getting rave reviews from fans who've missed the Dixie Chicks and their badass energy.
The song is off the group's upcoming album of the same name, making it their first single since 2007's "The Neighbor."
Celebrities have been "canceled" over the years for racist comments and sexual harassment, but the fact that the Dixie Chicks were canceled for more than a decade for saying they were "ashamed" of George W. Bush is disappointing. Maines' actual quote was uttered during a concert in Texas and she said, "just so you know we're ashamed the president of the United States is from Texas." She later elaborated on her opinions of the president writing a statement that said in part, "I feel the president is ignoring the opinions of many in the U.S. and alienating the rest of the world…While we support our troops, there is nothing more frightening than the notion of going to war with Iraq and the prospect of all the innocent lives that will be lost."
The Dixie Chicks were a casualty of a different era, before celebrities and artists could speak out about their political leaders. However, the world is a (slightly) different place and we welcome their trailblazing, feminist, and badass spirit with open arms. It's good to have you girls back.