You Can Make A DIY Wedding Cake From Costco For Only $50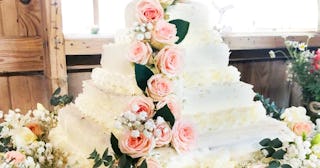 Jessica/Cottage Farmhouse/Instagram
Who wouldn't want this cake at their wedding?
If you've ever shopped for a wedding cake before, you know how expensive they can be. Obviously, they're on display during the reception so you want the cake to be spectacular, but since cakes can easily run in the thousands of dollars, spectacular-on-a-budget would be even more, well, spectacular. One Instagrammer took the budget part to a whole other level when her brother got married and the results are to die for.
Designer and builder Jessica (aka @cottagefarmhouse on Instagram) shared the ultimate wedding dream cake on her page from her brother's recent wedding. Turns out when you need a cake on the cheap all you need is some imagination and a nearby Costco (and a master-trained pastry chef doesn't hurt either).
"Y'all this DIY cake! It is no secret my bother is frugal," she wrote, "but this wedding took frugality to a whole new level. They bought two @costco cakes, cut them, stacked them, re-iced with buttercream icing, and covered with $10 @traderjoes flowers. Boom a $50 DIY Cake!"
Seriously, can we talk about how gorgeous this cake is? The flowers. The tiers. The buttercream. If this cake was on display at a bakery it would easily sell for a few thousand dollars and this entire cake cost a mere $50. "Displayed on the stand I built using stuff from @hobbylobby," Jessica continued. "Beautiful on a budget!"
When her photo began to make its way around social media (because, hello, who doesn't want a cake for $50?) she edited her original post to add that it was her sister-in-law's brother-in-law, Jaime Warley, came up with the design when he was in town from England for the wedding. He "took their idea of the cheap wedding Costco cake and threw it all together in a couple of hours at the venue the day before the wedding!" she wrote.
Warley's the head pastry chef St Ermins Hotel in London but still, us regular folks could make a solid attempt at a decent looking cake for the same price, right? RIGHT?
If you've ever had a Costco cake, you know just how amazing they taste. In fact, I'd challenge you to find another cake that tastes better (I should mention I was raised on grocery store sheet cakes) and the amount of cake you get for the price makes it even sweeter. Plus, Costco is a place shoppers can buy a seven-pound bucket of Nutella and a ready-to-eat cooked taco kit — all they want is for us to be happy.
After several requests from followers, Jessica said she'll eventually post step-by-step instructions, so you may want to follow her so you don't miss it. "Next birthday, I plan on recreating this cake!" she said. If you could do some kid's birthday cake variations while you're at it, that would be much appreciated.
This article was originally published on