Cold Case Justice: DNA Solves Gruesome 1956 Lover's Lane Murder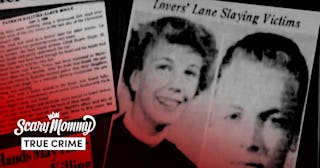 Scary Mommy and KRTV NEWS/Youtube
She had her daydream.
Tall, beautiful, blonde Patti Kalitzke, known as "Ski," to her friends, had just crew-cut her hair like a character straight from a Dick Tracy comic book. A popular 16 year-old junior at Great Falls High School in 1956, she'd fallen head-over-heels for a handsome young airman stationed at nearby Malmstrom Air Force Base, and they were already talking marriage. 18 year-old Lloyd Duane Bogle, from Waco, Texas, was a Christmas guest at the Kalitzke home, and had stayed over the new year.
But her daydream wouldn't last.
Kalitzke and Bogle went for a date at a drive-in movie on January 2nd, 1956, and were last spotted at 9 o'clock. Afterwards, they did what many teens at the time would have done. They drove west of Great Falls to an area now known as Wadsworth Park, along the Sun River: a notorious lover's lane. Kalitzke's parents expected them home at a decent hour: she had school in the morning.
When the couple didn't show, they hoped (prayed) the two had eloped. But instead, they'd lived through a nightmare — and never woken up.
Someone had attacked them as they necked in Bogle's car on that lover's lane.
They first bound Bogle's hand behind his back with his own belt. He was forced to kneel in the dirt next to his car, then shot, execution-style, in the back of the head. Bogle's killer didn't bother to steal his valuables or money — or even turn off his car, which was found with its ignition engaged, its headlights lit, and its emergency brake on.
After murdering Bogle, his killer turned his attention to Kalitzke. She was raped at least once, though the location of that rape remains unknown. Afterwards, the murderer forced her to dress. Then he shot her, like her boyfriend, on her knees. Kalitzke died approximately an hour after Bogle.
The next morning, three boys hiking by Sun River found Bogle's body near his car on lover's lane. Kalitzke's parents had their answer: their daughter hadn't eloped. They were living every parent's worst fear. Where was their daughter? Had she been killed? Kidnapped? Was she alive, or had she been murdered along with her boyfriend?
They had their answer on January 4th, when a county road worker found Kalitzke's body 7 miles north of the murder scene, at the bottom of a steep embankment on a lonely Cascade County highway. Newspaper reports at the time say she was fully clothed, but a vaginal swab was taken, even though there was no sign of sexual assault.
The crimes seemed motiveless. Her father established a reward fund for any tips that would lead to his daughter's killer, and contributions quickly mounted to more than five hundred dollars. Bogle's body was autopsied and sent back to Waco for burial; an unnamed "person of interest," who had argued with Bogle, was questioned and released. The sheriff called the lover's lane murder "the most merciless and brutal I've ever seen."
And there Kalitzke and Bogle's murders stayed: unsolved.
Over the years, persons of interest came and went. Keith Wolverton, a captain with the Great Falls sheriff's department in the late 1980s and a high school classmate of Kalitzke's, became obsessed with the bullets he was sure were in the cottonwood tree near the location of Bogle's car: if he could only find those bullets on lover's lane, perhaps he could trace them to a weapon. They used gamma-ray technology to locate six bullets and sent them to the FBI for analysis.
Nothing came of it.
But the results of Kalitzke's vaginal swab had been well-preserved on a microscopic slide. In 2001, Cascade County Sheriff's Office detective Phil Matteson sent that slide to the Montana State Crime Lab. That lab finally found a break in the cold case, 45 years later: the vaginal swab contained a sperm cell that didn't belong to Bogle. Kalitzke had definitely been raped, and that rapist had left a DNA sample. Detectives compared that sample to over 35 men, including gangster James Joseph "Whitey" Bulger Jr.
They ruled out every single one.
Matteson retired believing Kalitzke and Bogle's murderer would never be brought to justice. "A lot of different people had a turn at this, and we just weren't able to take it to conclusion," he said. The lover's lane murders just wouldn't be solved.
In 2014, retired Great Falls police Detective John Cameron wrote a book claiming Edward Wayne Edwards, a serial killer implicated in several murders similar to Kalitske's and Bogle's, had done the deed. Cameron's book alleged that Edwards had also killed JonBenet Ramsey and Jimmy Hoffa. He remained undeterred when Edwards' DNA didn't match Kalitzke's rapist, saying the sample had come from a bungling medical examiner.
But two years before, in 2012, Detective Sgt. Jon Kadner was handed the lover's lane murders, a case long gone cold, and he wasn't falling for the Edwards line. First he digitized the entire case file, which took months. But even as he digitized the case, he knew they'd only solve the Kalitzke-Bogle murders with that sliver of DNA. But the case still sat cold.
That is, until law enforcement became aware of something called forensic genealogy, used to nail the Golden State Killer in 2018. Could it help Kadner finally nail the lover's lane killer?
Forensic genealogists first develop a DNA profile of the culprit. Then they partner with labs and search public DNA databases, usually used to help adoptees or children born via donor sperm or egg to discover biological family members. Generally, this turns up a hit in the form of a second or third cousin. Then they sift through death certificates, newspaper clippings, and other public records to construct a family tree which can lead to the killer.
Kadner sent the rapist's DNA to Bode Technology in 2019. They constructed "a reverse family tree" from a cousin's profile. And Bode Technology gave him a name: Kenneth Gould.
Gould, born and raised in Great Falls, lived there with his wife and children in 1956, a little over a mile from Kalitzke. He had no criminal record and was never interviewed in connection with the crime — in fact, there's no known connection between him and the couple. He would have been 29 years old when he committed the lover's lane murders.
There was only one problem: Gould had died on May 31, 2007.
Sadly, to close the case, giving Kalitzke and Bogle's families' peace, Kadner had to confront the killer's children. "I wasn't sure how they were going to react when I come to them saying, 'Hey your dad's a suspect in this case,' but they were great to work with," he said.
Gould was their guy. Sixty years later, Patti Kalitzke and Lloyd Bogle had the justice they deserved. Theirs is believed to be the oldest case ever solved with forensic genealogy.
Kadner was able to reach out to Kalitzke's and Bogle's surviving relatives to deliver the news. "They're excited, but at the same time, it has brought up a lot of memories," Kadner said.
A long sixty years after the sweet couple's senseless killing and vibrant Kalitzke's brutal rape, the Great Falls Sheriff's Department has finally found their guy. "Our duty is to make sure that we solve these cases," said Sheriff Jesse Slaughter That long, long distance between the lover's lane murders and its resolution didn't matter. "You had two young, vibrant individuals that were well-liked among their peer group… investigators poured their heart and soul into this case," Kadner told one reporter.
"Ski" and Lloyd waited sixty years for justice: a time they could have spent building a whole lifetime together. But because a few sheriffs doggedly refused to give up, "Ski" and Lloyd have finally found the peace that they — and their families — deserved since that terrible day in 1956.