Joe Exotic And Carole Baskin React To Doc Antle's Arrest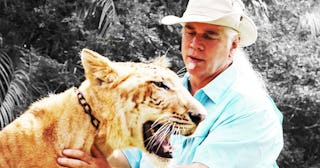 Scary Mommy and Netflix
Though we may have watched the last episode of Tiger King, the drama that kept us all riveted during quarantine just keeps unfolding.
The facts: Bhagavan "Doc" Antle, owner of Myrtle Beach Safari in South Carolina and star of the notorious Tiger King documentary, was charged with two felonies and thirteen misdemeanors related to the trafficking of lion cubs to Keith A. Wilson of Virginia, who's been under investigation for years by Virginia's Attorney General Mark R. Herring's animal law unit, says The New York Times. Two of "Doc" Antle's daughters, Tawny Antle and Tilakum Watterson, were also charged with misdemeanors related to animal cruelty and violation of the Endangered Species Act. His wives/girlfriends/polygamous cult ladies remain unaccused.
The Endangered Species Act prohibits the sale of lions across state lines.
Virginia's Attorney General's office charged "Doc" Antle specifically with "one felony count of wildlife trafficking, one felony count of conspiracy to wildlife traffic, four misdemeanor counts of conspiracy to violate the Endangered Species Act, and nine misdemeanor counts of animal cruelty." A months-long investigation found that Antle and Wilson had trafficked lion cubs between Virginia and South Carolina. Herring's Animal Law Unit seized 119 animals from Wilson in August 2019, including, The Times says, "lions, tigers, bears, camels, goats and water buffaloes," all of which were found to be living in "inadequate conditions."
According to 911 Animal Abuse, "Doc" Antle claims his title comes from a doctorate earned at the Chinese Science Foundation, which does not appear to exist … not even on the Internet.
Carole Baskin Reacts to 'Doc' Antle Charges
Carole Baskin, star of Tiger King, owner of Big Cat Rescue, and recent contestant on Dancing with the Stars told the UK's The Sun that while Joe Exotic was the biggest breeder for the cub petting industry, "I think the real kingpin behind this kind of exploitation has been Kevin Bhagavan "Doc" Antle… He's just smarter and better funded than the dominos that have dropped already, but the authorities have finally caught up to him." She also calls "Doc"Antle one of the "most vocal voices against the Big Cat Public Safety Act," which would prohibit cub petting and phase out the private ownership of big cats, according to National Geographic.
While viewers knew "Doc" Antle was sketchy, few would likely refer to him as either "smarter" or "kingpin."
In an email, her husband Howard Baskin (who Tiger King showed wearing a big cat outfit while on leash) told The New York Times, "We are thrilled to see law enforcement take action to stop what we believe to be illegal trade and illegal treatment of these innocent tiny cubs."
Joe Exotic Weighs In
Restricted to communicating with the outside world via Twitter after his conviction for conspiracy to murder Carole Baskin, Joe "Exotic" Maldonado-Passage, notorious Tiger King star, former owner of Greater Wynnewood Exotic Animal Park, tweeted that "I am asking you to stand up against this because if they get away with this, people's farm animals, pets, and the way of life as we know it will be taken away."
The thread continued with hashtagged pleas to Donald Trump, Donald Trump Jr., Melania Trump, Ivanka and Eric Trump, Mike and Karen Pence, Ted Cruz, Marco Rubio, and Sean Hannity to #PardonJoeExotic, #DoWhatsRight, and #FreeTheTigerKing. Because if there's one place to get in touch with the President, it's Twitter, where he seems to spend most of his time.
'Doc' Antle Reacts
In a statement published by The New York Times, "Doc" Antle says, "I categorically deny any act or conduct that could ever be considered as 'animal cruelty… I have spent my entire professional life promoting the welfare and conservation of big cats and other species." Mostly by, as 911 Animal Rescue says and we learned on Tiger King, hauling tiny baby lions and tigers around for people to play with and pet, "handled by person after person paying to have their photos taken with the cubs for a number of hours each day."
Antle has been accused of violating both USDA and state regulations for twenty years, says 911 Animal Rescue, for incidents ranging from hitting tigers to keeping them in small, unsafe environments.
Antle's statement published in The New York Times also says that, "I have deep regard and feelings for the animals in my care and would never hurt or abuse them in any way… I look forward to being able to answer these charges and be able to clear my good name."
"Good name" might be a little off the mark after Tiger King, as most viewers would agree that literally no one in the documentary, other than possibly the filmmaker, comes off as anything resembling "good" (with the exception of Dylan, Joe Exotic's newest husband, who requires a serious intervention from someone).
Press releases from Myrtle Beach Safari remain mute on "Doc" Antle's charges as of October 14th, and an attempt by Scary Mommy to contact him via text received a canned response to add him to our contact list. HAHAHAHAHA no.
Animals Rights Activists React to 'Doc' Antle's Charges
Animal rights activists were predictably thrilled, with PETA saying they "celebrate the news" that "Doc" Antle was "unsurprisingly indicted for trafficking." Brittany Peet, PETA Foundation's deputy general counsel of Captive Animal Law Enforcement, who also made an appearance in Tiger King, says, "PETA is eager to see him face the courtroom—and the consequences."
The Humane Society of the United States says "Doc"Antle has "been on our radar for years" and "applauds" the Virginia State Attorney General.
While "Doc" Antle's TikTok and Instagram have not been updated since the charges were filed, his daughter Tawny Antle has posted Insta pics of herself with both a chimpanzee and a baby tiger.
https://www.instagram.com/p/CGTWlC7HX5p/?utm_source=ig_web_copy_link
Comments on the post include, from user justleo_k, "Aren't you going to jail?"