Doctor Takes Time Out From Giving Birth To Help Deliver A Baby, NBD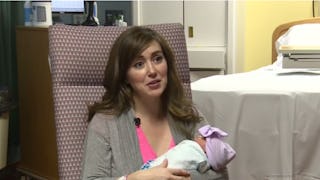 Image via WKYT
This OB/GYN is a total boss.
No matter how you give birth, it's one of the hardest things a woman will physically go through. But an OB/GYN acted like it was NBD when she took a break from delivering her own child to help another expectant mother.
Doctor Amanda Hess is an OB/GYN in Frankfort, Kentucky who normally brings other people's babies into the world.
"You know I love doing what I do. I love taking care of mothers and babies and a lot of doctors are always thinking of their patients even when they're a patient themselves," Doctor Hess tells WKYT.
This week she was at the hospital preparing to give birth to her own daughter when she heard another pregnant mom screaming. Patient Leah Halliday Jonhnson was fully dilated and ready to deliver. The only problem: her doctor on call was on his way back to the hospital after leaving for a break. He wasn't there, and she didn't have time to waste, the baby was coming.
"I just put on another gown to cover up my backside and put on some boots over my shoes, to keep from getting any fluid and all that stuff on me, and went down to her room and I knew her," Hess says.
That's right, this supermom suited up, said BRB, and handled business like a total boss. Apparently this was her chance to deliver one last baby before her own, and she was not going to let anyone down.
As luck would have it, Doctor Hess said she recognized the woman as one of her patients that she had just performed a check up on days before. As you might imagine, Johnson was extremely relieved to see Hess. Any woman that's been ready to push knows it is time to damn push and that baby will wait for no one.
"She was just glad to be able to get to push and have the baby out and not have to wait any longer."
Yes, we'd be singing hallelujah too. A few hours later, Hess delivered her own baby girl, Ellen Joyce. And that folks, is peak multi-tasking like a mother.