ER Doctor Caught On Video Cruelly Mocking Patient Suffering From Anxiety Attack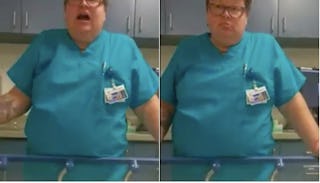 Image via Facebook/Donald Bardman
The doctor has been suspended upon investigation
A California emergency room doctor was caught on video berating a man suffering from an anxiety attack. The horrifying video shows the doctor repeatedly making fun of, swearing at, and even trying to pull him up out of his hospital bed, and has now been suspended for her vicious treatment of a patient in need.
The now-viral cell phone video shows Dr. Beth Keegstra's inhumane treatment of Samuel Bardwell — a 20-year-old student from West Valley College — during his ER visit this week. Bardwell, who suffers from severe anxiety attacks and takes Klonopin, came to the hospital after passing out during a basketball practice, ABC News reports.
During his visit to El Camino Hospital in nearby Los Gatos, California Keegstra can be seen mocking Bardwell and saying he was just trying to get drugs instead of actual help from the hospital. Bardwell's father, Donald, told ABC that Keegstra said, "I know why you people are here, you people who come here for drugs." Donald replied, "What do you mean you people?" and then promptly pulled out his phone to record the incident.
"You are the least sick of all the people who are here, who are dying. So you put your head up. Don't try to tell me you can't move. Come on. Sit up," Keegstra can be heard yelling in the video. She even tries to yank him up after he clearly states that he cannot move. "You want us to wheel you to your house in a gurney?" she says, laughing. "You have changed your story every fucking time," she told Bardwell toward the end of the clip. A physician using that word to talk to a patient suffering from an anxiety attack. This is appalling.
There are approximately one million Americans who experience panic-attack symptoms per month, according to Psychology Today, 28 percent of whom go to the emergency room with symptoms such as heart palpitations, accelerated heart rate, sweating, trembling, shortness of breath, and pain in the chest and arms. These attacks are incapacitating and to be treated as if you're "faking it" is nothing short of horrifying.
"She never first came in and introduced herself," Bardwell's father said. "She never said her name, she never asked for his name, she never really examined him."
The hospital released a statement saying, "This week, a patient who visited the emergency department at our Los Gatos campus had an interaction with a physician whose demeanor was unprofessional and not the standard we require of all who provide care through El Camino Hospital. We have expressed our sincere apologies and are working directly with the patient on this matter."
Keegstra has been removed from the work schedule, pending further investigation.
This article was originally published on