Doctor Delivers Baby Dressed As The Joker And The Photos Are Epic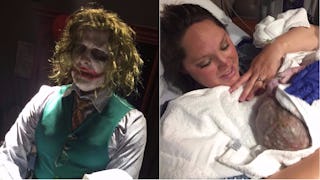 Image via Justin Selph
These parents were all about it when their doctor was dressed as The Joker to deliver their baby
Giving birth is terrifying, but you know what else is terrifying? Creepy clowns.
One couple got to combine the two, but the end result is far more adorable than scary.
When it came time for Brittany and Justin Selph's third child to enter the world at Henry County Medical Center in Tennessee, it happened to be Halloween night.
Justin tells Scary Mommy, "My wife's due date was November 5th, but that obviously didn't happen. She woke up Halloween morning to her water leaking. We went to the hospital around 12:30 pm and checked in. Brittany's doctor came in to meet with us and check things out. That's when we found out he was dressed for Halloween that day as The Joker."
Yup. No joke (see what I did there?). Their obstetrician, Dr. Paul Locus, dressed up as the freaking Joker.
OMG NO THANKS.
Well, that's what I would've said at least.
Luckily, Brittany and Justin have way more chill than me, and instead of demanding Dr. Locus change his outfit, they got an amazing set of birth photos for new baby girl Oaklyn Saige to one day show off to her friends.
Justin tells us, "He came back in to check on her around 4:00 that afternoon but she wasn't ready. So he said he was going home to pass out candy and to change clothes. My wife said 'Aww, we would hope that you wouldn't change.'"
They even thought it would've been cool to get in on the costume fun themselves. "We found it very humorous and were a little excited that we would have a baby delivered by The Joker. In fact, I mentioned to my wife that I should go get some face paint and fix her up as Harley Quinn," he tells us.
When the time came for delivery, Justin tells us his wife was a complete champ. "Brittany was ready for delivery at 8:00 pm, so the nurse called her doctor in, and to our surprise, he showed up in full Joker attire, ready to deliver our baby, Oaklyn. There my wife is, staring the Joker straight in the eyes while delivering our baby, what a sight. I was holding her leg up, and snapping pictures. I was going to go Facebook Live, but the nurse cut me off!"
Brittany was probably grateful for that nurse, just saying.
The photo of Dr. Locus initially went viral on Reddit and Imgur, where commenters were skeptical of the image's origins and figured the whole thing was a hoax.
The original poster, a cousin of Brittany's, eventually provided more photos as proof that this was, in fact, a real thing that happened.
Though we understand why Redditors would rush to their happy place and try to tell themselves that The Joker did not actually deliver a baby under scary fluorescent lighting eerily reminiscent of that scene from The Dark Knight where the villain disguised himself as a nurse.
But all's well that ends well, and even if this looks like a nightmare scenario for those of us a little nervous around evil clown types, it clearly worked out for this fun family.
"He was a great sport about the whole situation, and took photos with our family."
Justin says, "The next morning, he came in to check on Brittany, and he said 'Sorry I couldn't make it in last night, glad to see the delivery went well.' Joking of course. He also gave her a card of congratulations, and he signed it 'Dr. Joker.'"
Now there's a card for the baby book that no one will ever want to forget.