Doctor Compares Holding Centers For Migrant Kids To 'Torture Facilities'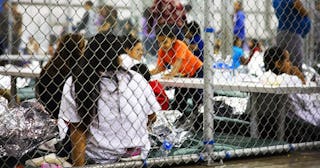 Smith Collection/Gado?Getty
A doctor visited children at two immigration detention centers in Texas and was appalled by what she saw
Ever since President Trump enacted a "zero-tolerance" approach to immigration, thousands of migrant children have been separated from their families and detained at the border. It is against the law for any child to be held at U.S. Customs and Border Protection facilities for more than 72 hours, and yet, most of these kids are living in prison-like detention centers for up to a month before being transferred into the custody of Health and Human Services.
Every day new and terrifying reports emerge describing the squalor, illness, death, and horrifying conditions these children are living in and yet, Trump continues to double down on his draconian (and breathtakingly cruel) immigration policies. Last week a doctor visited two border facilities in Clint and McAllen, Texas and found the scene so abhorrent, she called the centers "torture facilities."
Local physician, Dolly Lucio Sevier, wrote in a medical declaration (via ABC News) that children in the McAllen detention center faced "extreme cold temperatures, lights on 24 hours a day, no adequate access to medical care, basic sanitation, water, or adequate food."
She said the youngest child there was two and a half months old and of the 39 children she assessed, all showed signs of trauma. Some teenagers even told her that they hadn't been given access to wash their hands once since entering the facility and teen mothers weren't able to wash their children's bottles. There was reportedly no developmentally appropriate pureed food for infants either.
"The conditions within which they are held could be compared to torture facilities," Sevier wrote in the declaration.
A law firm representing all the detained children is filing a class action lawsuit against the government for violating the 72-hour law and it was these lawyers that requested a physician visit the center and asses the scene.
Sevier later told ABC News that the facilities were "worse than jail" and suggested that the border centers were "intentionally causing the spread of disease."
"To deny parents the ability to wash their infant's bottles is unconscionable and could be considered intentional mental and emotional abuse," she said.
A common reaction to this tragic news is that migrant parents shouldn't bring their young children to the United States unlawfully however, Warren Binford, a law professor at Willamette University who interviewed children at the Clint facility said many teenagers told him that they arrived at the border with their parents to seek asylum, which is a legal way to seek entry to the United States.
This bears repeating for all the folks who like to claim that immigrants should "do it the legal way" — like the commenter above — seeking asylum is the legal way to immigrate to the United States. These families lawfully approached the border and border agents still separated children from their families and made those children live in completely appalling conditions.
Regardless of where anyone falls on the political spectrum, all decent humans should agree that the administration's current immigration policy is horrifying and that the condition these poor children are living in is akin to concentration camps. As a country we need to do better and we need to demand better of our appointed political leaders.