Doctors With Free Flu Shots For Migrant Detainees Turned Away At The Border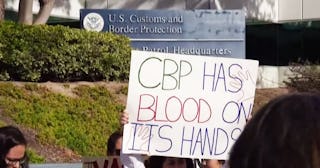 CBS 8 San Diego/Youtube
Doctors with free flu shots turned away from migrant detention centers at the California-Mexico border
On Monday, December 9, 2019, a group of doctors from the advocacy group Doctors for Camp Closure showed up to a detention facility in San Ysidro on the border of California and Mexico armed with free flu shots for the migrants inside, but were turned away by U.S. Customs and Border Protection. The next day, those same doctors and nearly 70 protestors marched up to the Border Patrol Headquarters in San Diego and peacefully demonstrated until six of them were arrested.
The question on everyone's mind was "why?" Why didn't CBP open the doors and allow the doctors to vaccinate the individuals inside the detention center? Department of Homeland Security called the doctors "a random group of radical political activists," while CBP released this statement in response:
"As a law enforcement agency, and due to the short-term nature of CBP holding and other logistical challenges, operating a vaccine program is not feasible. Both ICE and HHS have comprehensive medical support services and can provide vaccinations as appropriate to those in their custody."
However, CBP's statement does not hold up against one they made last month. Three children in U.S. immigration custody died from flu infections last year, so this year the Centers for Disease Control and Prevention told the CBP to vaccinate detained migrants (via The Washington Post) and CBP officials said that their agency has never provided immunizations and wasn't going to start.
"To try and layer a comprehensive vaccinations system on to that would be logistically very challenging for a number of reasons," a CBP spokesperson said at the time.
And here you have a bunch of doctors with free vaccines willing to administer them, and still, the CBP declined.
As for the doctors, they won't stand down. Doctors for Camp Closures started a Change.org petition to demand flu vaccinations in migrant camps and said that "children held in detention are 9 times more likely to die from the flu than the general pediatric population."
"You can't lock people up in inhumane conditions, watch them get sick, and then refuse access to medical care," said Marie DeLuca MD, of Doctors for Camp Closures (via a local CBS affiliate).
In response to CBP's statement, Doctors for Camp Closures had their own.
"As doctors, we are committed to defending life and health for all people," they said in a statement on Facebook. "We have 100 flu vaccines ready to go, and a network of doctors ready to do more across the country. CBP is intentionally creating a health crisis and we must act now to stop it: Vaccinate migrants, keep people alive, and close the camps!"