Dog Comforts Man In Airport After Death Of His Beloved Pet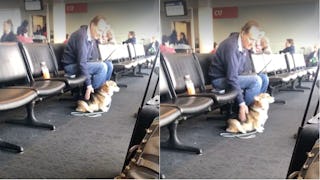 Image via Facebook/Madison Palm
The Corgi knew exactly what this man needed, comforting him after he lost his dog
Any dog owner knows just how amazing pups can be. Dogs are loyal, smart, protective, playful, and most of the time you want to squeeze their faces off because they are so, so adorable. Sometimes they also have a way of knowing exactly what you need at the exact moment you need it.
Madison Palm, a 23-year-old dog owner who lives in Coeur d'Alene, Idaho found herself sitting in the Seattle airport while on a trip to Alaska to visit her mom. She had her trusty sidekick, Cora, a Corgi (and therapy dog in training) in tow when the pup walked over to a man sitting alone.
"Cora quietly tip toed away from me during our crazy long layover and plopped herself right next to a complete stranger," Palm wrote on her Facebook page. "He gave her scratches, told her how cute she was, and proceeded to take a photo of her."
Then he shared something with Palm that made her certain Cora knew exactly what she was doing. "He also shared with us that he lost his beloved dog the night before. I've never had a doubt that Cora can sense those who are hurting and those who need companionship and love."
Palm said before she knew it, Cora was sitting at the man's feet and he was petting her. "I asked him if she was bothering him," Palm told TODAY. "And with a somber face and watery eyes he said, 'No, no. I lost my dog last night.'"
https://www.instagram.com/p/BfclXFgnUyy/?taken-by=the.corgi.cora
Palm rescued Cora last summer after a co-worker told her a family posted on Facebook that they would be getting rid of her. According to TODAY, she immediately left work to meet Cora. She was underfed, had never been to see a vet, and had been kept outside most of her life. Despite all this, Palm said she was sweet from the very beginning.
"She just wants to be loved on and held all day long," Palm told TODAY. "She is always right next to me and always keeps a close eye if she's not. If I'm not available she'll pick the next closest lap to sit in."
https://www.instagram.com/p/BfSS6w0H-qe/?taken-by=the.corgi.cora
If you have a pet, you know they are a part of the family. They bring so much joy to our lives, asking very little in return, so knowing this poor man lost his friend and companion is heart breaking. Cora eased his pain, if even for a moment, and that is pretty wonderful.
"She is a natural born therapy dog in every way," Palm wrote. "I am so blessed to call her my dog."