Here's A Dog Dressed Like Paddington Bear Because You Need It In Your Life
by Valerie Williams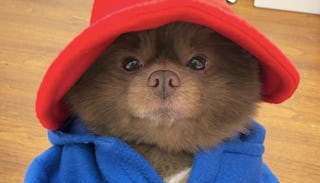 Image via Instagram/BertieBertThePom
Bertram is a Pomeranian who dresses better than we do
A wee bitty pupper named Bertram is slaying the pet costume game with his recent take on Paddington Bear. We literally can't even with 1) the accuracy 2) the adorableness.
LOOK AT HIM.
His mini hat and coat are completely perfect and the caption says this is his Halloween costume but TBH, Bertram can rock his Paddington attire any damn day he wants. He's a card-carrying Good Boy™ and this look suits him 365/24/7.
Does he love going on bear adventures? Does he crave marmalade? Do we even care? Not one bit. This costume werks for sweet Bertram but this is far from the first time this pupperino made hearts sing with his sense of style.
Related: 100+ Popular Girl Dog Names That Will Keep Her Tail Wagging For Years To Come
For example; no one can bow tie like Bertram can bow tie. You can bow try but you will fail. So sorry to break it to you.
He can do my taxes whenever he wants, you guys.
He also has serious talent when it comes to wearing the h*ck out of itty bitty polo shirts. How does anyone around him even survive this level of cuteness? I would be hanging on his every blep and bark. I would get nothing done all day.
He's also very good at flower crowns.
Like, very good.
But honestly, he has our hearts sporting nothing but the fur on his back.
Never change, Bertram.
This article was originally published on