Dying Dog Owner Had Healthy Pet Euthanized So They Could Be Buried Together
by Julie Scagell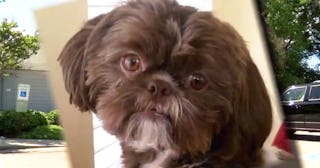 WCNC/Youtube
The healthy dog was euthanized and placed in an urn inside the woman's casket
A Virginia woman had her healthy dog put to sleep so it could be buried with her when she passed away and people have a whole lot of feelings about her decision.
The dog, a Shih Tzu mix named Emma, was euthanized and then buried with her dead owner, in accordance with the woman's will. It's prompted a heated discussion about her choice, and whether her decision was even a legal one.
The dog arrived at the Chesterfield County Animal Shelter in Chesterfield, Virginia, in early March after her owner died, where she stayed for two weeks, according to CNN. During that time, the shelter attempted on multiple occasions to convince the executor of her will to change their mind and keep Emma alive.
"We did suggest they could sign the dog over on numerous occasions because it's a dog we could easily find a home for and re-home," said Carrie Jones, manager of Chesterfield Animal Services.
After the two weeks were over, the executor came to pick up Emma from the shelter, where they again offered to have her signed over and be adopted out. The executor declined and Emma was taken to a vet where she was euthanized, cremated, placed in an urn, and put inside the casket of her dead owner.
Obviously, people had a lot of words for someone who would have a healthy pet put down so they could spend eternity with them:
https://twitter.com/jetpack/status/1131283828431941632
https://twitter.com/jetpack/status/1131283786669481987https://twitter.com/jetpack/status/1131398054895083521
Laws allowing people to be buried with their pets vary by state. In 2014, Virginia passed a law to make that legal, but cemeteries must set aside separate sections of the grave and no pet can be buried in the same grave as a human without separation.
If you own a pet, odds are they are treated like a beloved member of the family, but in the eyes of the law they are personal property like a table or chair and in Virginia specifically, it is legal to euthanize a healthy animal. The question of legality is less concerning than whether the decision to do so is a moral one.
There are millions of healthy pets in shelters that are killed every single year because they are unable to find loving homes for them to be placed. And while this is devastating to think about, a pet owner actively choosing to end their animal's life because they are dead is an entirely different situation.
Many also question the vet's ethics in Emma's case. Dr. Kenny Lucas told the Associated Press that the decision to end an animal's life is distressing for all involved and his clinic would not do it. "Whenever we're faced with a euthanasia situation, it's a very emotional situation – and beyond everything we talk about – that we need to do ethically, and we've taken an oath to do, it's something we take home too," Lucas said. "It weighs on us as professionals."
A Virginia state lawmaker is now considering legislation to address situations like this in the future.