Dog Finds Giant Dildo, Refuses To Part With It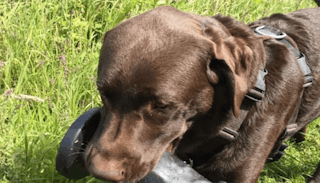 Image via Mercury Press
Dog carries around a huge dildo during his walk because, finders keepers
A dog out for his daily walk happened upon a giant gift for his owner. And I do mean giant. Refusing to drop it for about half an hour, the pup happily clutched his newfound treasure, bounding all over the place. His tenacity was rewarded, as the massive item now has new purpose in life.
Oh, small detail. Did I mention it's a ridiculously huge dildo? No big deal at all.
Galaxy the dog, the very definition of a good boy, was out with his squad of puppy pals led by their hired walkers when his life changed forever. According to Metro UK, dog walkers Amy Brown and Natalie Ferguson were going about their business at a Scotland park when Galaxy presented them with his find.
Natalie recounts, "I've never seen anything like it in my life. Galaxy was coming towards it and I turned to Amy and said: 'That's not a … surely that's not a …'
Oh, but it was. It like, super was. A black dildo the proportions of which I can't wrap my head around. But Galaxy had no problem wrapping his teeth around it and happily skipping about.
Brown and Ferguson were flabbergasted, and who could blame them? First of all, where the hell did it come from? This is a sex toy with history, apparently. How did it find itself at a little park in Scotland? It boggles the mind.
Secondly, it's size. For perspective, this dog is a fully-grown chocolate lab. And look how big that thing is compared to him. "We couldn't believe it. He was so proud when he brought it over to us. We were looking at it thinking: 'That's impossible'. It was enormous."
Not one to look a gift dildo in the mouth (I am so sorry), Ferguson and her partner decided not to dash Galaxy's hopes and dreams by snatching it away. "Me and Amy were in stitches. We would normally put things in the bin if the dogs pick them up but Galaxy carried it round for about half an hour."
Living his best life for a whole 30 minutes. But the dog walkers didn't let it end there. "We thought we'd better let him take it home and show it to his owner, Ami, but I found it so funny I couldn't even explain what it was. She took a look at it and by that point there was three of us girls standing around laughing at a dog with a dildo. It was all quite bizarre."
Bizarrely wonderful, you mean.
Now for the best part. Remember when I said the dildo had new purpose in life now that Galaxy rescued it? Ami tried throwing it out but her husband Ste had other ideas. His football club, Vulcan FC, was hosting a fundraising tournament the following weekend and the giant member was handed to the winning pair as a trophy. It was Ste and his playing partner Billy Johnson who became the proud custodians of a mysterious black dildo with a past.
The "prize" is now on display at The Wargrave Inn, a pub frequented by the members where other Vulcan trophies are also showcased. I think it's safe to say that Galaxy's special present is now the team's pièce de résistance.
Good boy, Galaxy. Good boy.
This article was originally published on