It's Not Officially Summer Until You Put Your Dog In A Hawaiian Shirt
by Madison Vanderberg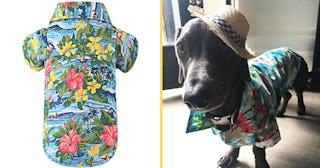 Amazon
A number of Amazon retailers are selling Hawaiian shirts for dogs this summer
If you've ever wanted to dress your dog up like a dad at a summer barbecue, you can finally make that kind of weird dream come true! A company is selling the cutest authentic-looking Hawaiian shirts for dogs on Amazon, because Fido deserves to dress like a chill, laid-back kinda guy who maybe just got back from vacation. The company that makes these shirts is called — wait for it — Expawlorer. Get it? Like explorer, but also paws? We are super here for this.
The shirts are only $12.99 and come in two patterns "so you can choose one style that suits your pet best." The shirts fasten with velcro, which is necessary when dealing in dog fashion, and the they come in sizes S-XL. You can check their sizing chart to find the correct shirt for your pet, or keep scrolling for a puppers fashion show that'll knock your socks off.
This 6lb mutt is wearing a size small. Wearing the heck out of it, TBH.
This is a 15 lb Chihuahua Pug mix in a medium and truly, it's a perfect fit.
This big boi is wearing a large and the pattern just sets off his fur color, don't you think?
This 60 lb pup is wearing an extra large and we love his laid-back, big guy vibe.
The brand says the shirt is "suitable for any occasion, especially for vacation," and we can't stop lol'ing at the image of a dog booking a trip to Hawaii by himself. This shirt makes him look so legit, though — who would deny him a plane ticket? Not us.
The shirt currently has a 4.2 (out of five star rating) based on 156 reviews, making it the highest-rated Hawaiian shirt for a dog on Amazon, but if you don't dig the two prints they option, there are a few other Amazon brands in the Hawaiian dog shirt industry.
Luckstar's yellow, green, and toucan-print Hawaiian shirt is cute and just as affordable.
However, this Tangpan shirt is less than $9 and has a 4 star rating based off 300+ reviews. Look at that smiley doggo face. He knows he looks good.
Also, if you have a tiny dog, this Casual Canine shirt comes in size XXS which is great for chihuahuas and other petite pets.
If you want to pull out all the stops, you can find matching Hawaiian shirts for the entire family (and the dog) on Etsy. It'll set you back around $100, but that's a small price to pay for this gloriously weird photo op.
Amazon is a treasure-trove of strange dog clothing (like these "mermaid" life vests), and trust us when we say that your dog definitely wants to wear a Hawaiian-print shirt this summer.