You And Your Pup Can Now Match With These Adorable Pajama Sets
by Cassandra Stone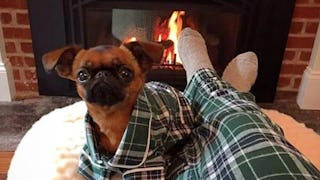 Image via Instagram/FabDog
Now you can curl up and get cozy with your pup in style
While matching holiday pajamas for the whole family are all the rage for some folks, there's a whole new trend happening for dog lovers everywhere: pajama sets for both you and your four-legged fur baby.
FabDog Inc., a company that coins itself as a "fashion brand for dogs," has launched a line of matching PJs for dogs and humans. So if you're interested in looking fashionably cozy with your best friend — you're in luck.
OH HELL YAS. Land's End ain't got nothing on these warm, plaid, classic pajama pants. Look how handsome that little mister looks in his Leave It To Beaver-style sleepwear!
Wonder if this set comes with its own decorative wooden mallard duck for the mantle? If green plaid isn't your jam, there are more options for you to perfectly match your pupper.
Oh hey, holiday red! These are great for laying out some cookies for Santa OR some Snausages for Fido.
You simply cannot go wrong with a light heather grey ANYTHING. A groutfit so versatile, you could wear them to bed or out for a brisk morning walk.
This red, white, and blue set will reignite your inner All-American. Donning patriotic gear can be classy — it's not all MAGA hats and "Stars 'n Bars," you know. If your dog is the kind of dog who likes summers in Martha's Vineyard and the occasional sailboat ride with ears flapping in the wind, these are probably right up your pup's alley.
Each matching set costs just $50, which is a steal if for no other reason than these are way cooler and cost half as much as holiday RompHims.
Supply is limited, so hopefully these adorable sets will be back in stock for the holidays season because YES PLEASE.