Dog Who Kept Boy Alive In The Woods For 44 Hours Deserves All The Treats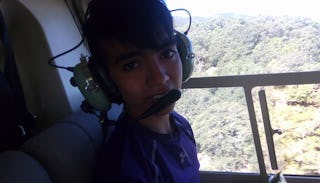 Max the dog keeps boy alive for nearly two days
A friendly dog named Max is being credited with saving a teenage boy who was lost in the woods for almost two days.
The child, 14-year-old Juan Heriberto Trevino, was at a summer camp in Mexico's Sierra Madre Oriental mountain range. While looking for firewood he became separated from his group, rescue officials told reporters.
Trevino was lost for almost 44 hours as police, firefighters, and community volunteers searched the mountains for him and Max. The boy slipped and fell down a ravine, The Dodo reported. Trevino told reporters he was working on moving tree trunks when he slipped. Despite having just met a few hours before at the summer camp, Max refused to leave the child's side until rescuers arrived.
"He stayed by my side the whole time, making me feel safe," Trevino told Noticieros Televisa. The pair slept under a tree at night and cuddled to stay warm under the cool mountain winds. "I grabbed (Max) and put him on my legs to not be so cold and hugged the dog." Max is also credited with the leading the pair to water so both he and the boy could hydrate.
Thanks to Max, Trevino stayed alive long enough for rescuers to find him. Both were airlifted out of the mountain range and reunited with their families. The deputy director of local police, Martin Castillo, told reporters that the child was very lucky to have Max by his side. "In that part of the mountain it is very easy to get lost. In addition, it's very cold at night, as it is very high," he said.
The boy was mostly fine but did shows signs of exhaustion and dehydration, police said. He was taken to a nearby hospital for additional tests. Trevino and his family were so grateful for Max's help in keeping the kid alive and had hoped to adopt the dog. Not surprisingly, though, a canine as great as Max already had a loving family waiting for him to come home from his latest adventure.
This article was originally published on