This Mermaid Life Jacket For Dogs Is The Only Pool Accessory You Need This Summer
by Madison Vanderberg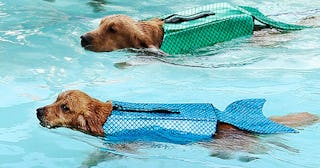 Amazon
Your dog is going to hate wearing this ultra cute mermaid life jacket
Remember when inflatable swan floaties were all the rage? For 2019, inflatable swans are out and dog mermaids are in! Yes, you heard that right, we're talking about dogs that are also mermaids that paddle around the pool and make cameos in your Instagram videos. Several online retailers are selling mermaid life jackets for dogs, and just like the dog leggings we went nuts for in the winter, your dog is gonna hate this jacket as much as you love it.
Not all dogs are natural-born swimmers, which is why it's nice to wrap your pup in a lifejacket if they plan on going to the beach or pool this summer, so why not jazz things up a bit and put Fido in a sparkly mermaid tail?
One Amazon retailer is selling the jackets for $30.99, which is honestly #WorthIt for the LOLs. These sparkly jackets come in three colors (blue, green, and rose red), plus the brand also makes a "Grey Shark" jacket that comes with a little shark fin. Awwwww.
The jackets come in three sizes that can fit dogs with back lengths from 10 inches to 17 inches long, and the retailer says to "measure your dog's back length from the base of your dog's neck — where the collar sits — to the base of the tail." The brand states that the small size is best suited for a Maltese, Boston Terrier, Pug, Shih Tzu, or Pekingese, the medium would work on a Shiba Inu, Cocker Spaniel, Akita, Shetland Sheepdog, or border shepherd, and the large is good for Labradors, Huskies, and Golden Retrievers. For reference, one commenter bought a size XL for her 96 lb Labrador, pictured here.
These jackets aren't just fun, they're durable and safe too. The reflective bright colors provide maximum visibility in the water, there's a front flotation device to help your dog keep his head above water, and there's a handle on top in case you need to quickly pry your pup out of the waves.
The shark jacket is pretty cute too.
These particular lifejackets are sold by Amazon retailer Urijik, but there are tons of mermaid life jackets on Amazon, like this matte pink salmon-inspired one.
We're still partial to the metallic life jackets, though.
It's summertime and by that we mean, it's the perfect time to put a mermaid life jacket on your dog and make her go in the pool.