Woman Shares Heartbreaking Story To Warn Pet Parents Of Common Suffocation Danger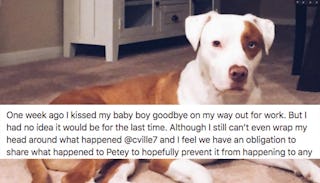 Image via Facebook/Christina Young
She hopes to help other pet owners to know the risks of suffocation
A grieving dog owner is speaking out about the tragic loss of her pet in hopes of keeping other pups from suffering the same fate.
Christina Young posted yesterday about her beloved dog Petey's untimely passing. Her story is incredibly sad, but Young says she feels an obligation to warn pet owners of a household safety hazard some may not think about — until it's too late.
"One week ago I kissed my baby boy goodbye on my way out for work. But I had no idea it would be for the last time. Although I still can't even wrap my head around what happened," she writes.
Young says that her partner Christian came home from work the other day to a gut-wrenching sight. "Last Monday, Christian beat me home from work by about 10 min & was surprised when Petey didn't greet him at the door like usual. As he walked in further he saw our sweet boy laying lifeless with a stupid chip bag over his head."
The chip bag was on the counter, and unfortunately, Petey was able to reach it. "…we will forever blame ourselves for leaving out. He ate every chip out but of course went back for crumbs… with there being nothing left inside every time he would go for more he would inhale making the bag tighter & tighter around his head.. ultimately resulting in suffocation."
Young says Petey was smart and at first, she couldn't understand why he wouldn't use his paws to pull the bag off his head. Then, she did a little research and found out how sadly common it is for a pet to die this way — and how quickly it happens.
"3-5 pet suffocation's get reported every week and 42% of those occur while the owner is in the next room. It only takes about 3 minutes for their oxygen to drop to fatal levels," she writes. Indeed, this is a more prevalent issue than any pet owner might realize. According to PreventVet, few owners understand the danger and that it can happen to pets of every size and with food bags of many varieties.
Young is sharing Petey's story because she was never aware this was a hazard and considers herself a "very overprotective dog mama."
"In fact 90% of the incidents reported the owner had never heard of this until it happened to them (us included). Chip bags, cereal bags, bread bags, popcorn bags, dog/cat treat bags seem to be the most common," she cautions.
As the owners of two highly curious (and food-obsessed) pups, this was news to me too. My heart breaks for Young and sweet Petey, but now, I will be more vigilant with what my family leaves on the countertops.
"So I just ask that in honor of my boy Petey that you be extra careful, warn other dog owners & give your fur babies some extra love today and everyday after this. I pray none of you ever have to experience your heart breaking this way."
This article was originally published on