This Dog Waited For Her Human For Weeks After Wildfire Destroyed Their Home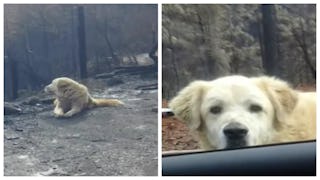 Image via YouTube/abc10
The story of this determined dog and his loving owner will make you sob endlessly
We don't deserve dogs, but we sure do need them. This story is no exception. After the California wildfires destroyed their family home, Madison the dog waited patiently for his humans to return to the spot where their home once stood.
For almost four weeks.
Madison, an Anatolian shepherd, was left behind at home when his owner, Andrea Gaylord, was unable to get to their home in Paradise before the fire spread throughout their neighborhood. Gaylord tells the Washington Post she worried about Madison for weeks, and prayed for his safety.
Once the mandatory evacuation order was lifted last week, Gaylord returned to the property where her home once stood. Madison was there, waiting.
A California-based dog rescue, K9 Paw Print Rescue, helped locate Madison and his brother, Miguel. "Madison's parents were unable to get home to him when the Camp Fire spread," the rescue writes on their Facebook page.
"They hoped and prayed he would be OK. When they finally got clearance to go back to the lot where their house once stood….Madison was waiting there for them as if he were protecting his former home. Never give up!!"
Naturally, this story made everyone on the internet feel their feelings — because how could it not?
Shayla Sullivan, a volunteer with the organization, found Miguel first and wouldn't give up until she found Madison, too.
The fires destroyed an area the size of the city of Chicago, 14,000 homes, and took two and a half weeks to contain. The story of Madison, Miguel, and their beloved human. The three of them are now homeless after Gaylord lost everything in the fire. She says she finds peace by having her dogs back.
"Imagine the loyalty of hanging in through the worst of circumstances and being here waiting," Gaylord tells ABC10, adding, "You could never ask for better animals."
This article was originally published on