Dolly Parton Leaves Her Christmas Decorations Up Until January, So You Can Too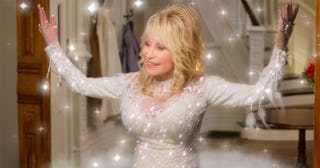 NETFLIX
Here's Dolly Parton's excuse for leaving her Christmas decorations up in January (not that anyone needs an excuse to do that)
Dolly Parton is pretty clearly feeling the holiday spirit this year. She did her best to get us all geared up for the holiday season by releasing a bakeware line, a Christmas sweater collection, and her first new Christmas album in several decades — not to mention the hilariously fun fever dream that is her Netflix movie, Dolly Parton's Christmas on the Square. But now we're learning more about how the Queen of 2020 celebrates the holidays in her own home, and you're going to love what she has to say.
During a recent appearance on Cody Alan's podcast Cody Cast, Parton revealed the one way she celebrates a little differently from many people around the holidays: She leaves her Christmas decorations up until well into January. And not that we think anyone needs an excuse to do that, but here's the explanation she gave.
"I put up my Christmas decorations the day after Thanksgiving," Parton said. "I celebrate Christmas and Thanksgiving until my birthday on the 19th of January. I always make them leave my decorations up 'till after my birthday, 'cause I am still celebrating."
That's it. It's that simple. But also, even if you don't have a birthday in January, you should feel free to leave those decorations up for as long as you want to. Seriously, January and February are the longest, coldest parts of winter, and without any major holidays to look forward to (no, we are not counting Valentine's Day). If you want to leave your Christmas decorations up until Spring, well, you don't need justification from us, or Dolly Parton, or anyone.
She's clearly into the season.
In fact, a study done this year showed that more than half of Americans think it's OK to leave holiday decorations up past the beginning of January. A whopping 83 percent of people said their decorations were helping bring a little more joy to the absolute dumpster fire that this year has been, and because of that, they planned to decorate earlier than usual, keep decorations up longer than usual, or both. Let something good finally come out of 2020 — take a page out of Dolly Parton's book and make it a new tradition to keep your decorations up as long as you damn well please.