There's Dolly Parton Christmas Sweaters And We've Never Needed Them More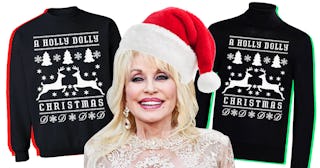 Viorika/David Becker/Getty
Dolly Parton is clearly feeling the holiday spirit this year
If we're being perfectly honest, we've been a little concerned about the holiday season this year. Amid the coronavirus pandemic, we're not sure if we'll be able to travel or spend the holidays with our families. The election could very well lead to more chaos and unrest that makes the season feel less than jolly. And 2020 has been a dumpster fire of a year, so is anyone really feeling the holiday spirit? Well, we know one person who is: Dolly Parton.
Parton seems determined to get people into a holly jolly mood this year by offering her own line of Christmas bakeware, her first Christmas album in 30 years, and a Christmas movie that's dropping on Netflix. But there's even more than that — the beloved country star just announced that she has an entire line of Dolly-themed Christmas apparel available on her website.
Parton was a little coy about this line, but it turns out that back in January, when she made headlines for a popular social media meme she created, she was dropping hints about the cozy, Christmasy goodness that was to come.
https://www.instagram.com/p/CFxLu3AFnSF/
And fam, this stuff is cute and festive. There's more to this than just a Christmas sweater, though you can certainly get yourself a Dolly-themed one of those.
There are also T-Shirts, a turtleneck, pajama pants, and an adorable top that shows Parton giving Santa Claus a smooch under the line, "I Saw Mommy Kissing Santa Claus."
If you're really feeling the spirit and want a full bundle of Dolly cheer, look no further than this full-on collection of joy and goodness.
Or if you just want some solid holiday tunes and "a cup of ambition," she has you covered there too.
What makes this line even better is that every item comes with Parton's new Christmas album, A Holly Dolly Christmas. You know you were going to buy it anyway, so you might as well get it in a bundle with a sweet new Christmas sweater that's anything but ugly.
The news of this line comes just after Parton's Netflix Christmas movie was announced, and if there's anything that can get a nation of Grinches in the holiday spirit, it's all of this news. Could it be that Dolly Parton is our 2020 Cindy Lou Who, here to save Christmas? It's beginning to look that way, and TBH, we can think of no one better for the job.