The Dolly Parton Imagination Library Is Working, And This Is Great News For Everyone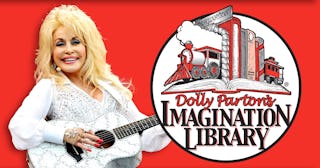 Scary Mommy, Dolly Parton's Imagination Library and Shirlaine Forrest/WireImage/Getty
When I was tiny, my father rigged a rudimentary speaker system throughout our entire house, so that no matter where you were, you couldn't escape his music preferences. Sometimes you were stuck listening to Tiny Tim's spooky falsetto; sometimes it was the tiki bar crooning of Don Ho and all those tiny bubbles. Finally, the '60s gave way to the '70s, his likes shifted, and his go-to's were replaced (thank the lord). I grew to love Peter, Paul and Mary and Loretta Lynn, but once Dolly Parton's "Coat of Many Colors" came into the mix, I was smitten.
I hate to say that Parton dropped off my radar until recently, when her $1,000,000 donation towards developing Moderna's coronavirus vaccine made the news. Somehow I had missed the fact that my old bold and sparkly friend had spent more than a quarter century devoting herself to philanthropy and good deeds. And, in 1995, when I was immersed in my first teaching job in rural Missouri, she was developing her non-profit literacy program, The Imagination Library (AKA The Dolly Parton Imagination Library, or DPIL), in rural Tennessee.
The program's modus operandi is simple. DPIL partners with a community organization (maybe a library, school, or health clinic) and delivers a free book each month to preschool children. Each year, DPIL sends out over 10 million books to infants, toddlers, and preschoolers across the globe.
In 1996, the US Department of Education reported that 61% percent of low-income families had zero books for children in their homes.
Parton, who actually launched DPIL a year before this national study, sought to reach this exact underserved population, though originally on a much smaller scale. She considered her own father, who according to Parton, was severely limited by his inability to read. She saw firsthand how illiteracy could diminish a person, so, through DPIL, she offered the children of Sevier County (where she grew up) a chance to thrive and change their life's narrative.
Parton puts it like this: "If you can read, even if you can't afford education, you can go on and learn about anything you want to know. There's a book on everything. So I just think it's important for kids to be encouraged to read, to dream and to plan for a better life and a better future."
We can easily agree with Parton's view that literacy, in general, is key to opening up new worlds for the reader. At the very least, engaging with books can help a child navigate a complex world, boost concentration and critical thinking skills, heighten confidence, and, of course, lead to better academic performance.
What is also heartening is that reading may keep childhood mental illness at bay. According to the Child Mind Institute, about 22% of children in the United States — that's over 17 million kids — struggle with their mental health (including, but not limited to, anxiety, depression, ADHD) each year. This figure includes preschoolers. Simply put, a book can equal a healthier, active brain, which can bolster a young reader's mental health trajectory.
Of course, the converse makes sense as well. Not having access to books impedes academic performance, cognitive growth, and may leave young children vulnerable to mental health challenges. Other statistics tell an equally bleak story: "A child who still has weak reading skills by the time he becomes an adult has a 43% chance of living in poverty." Underdeveloped literacy, then, is a strong predictor of economic stagnancy—a cycle difficult to break without access to books.
Even pediatricians are getting on board, with the similar, Boston Medical Center-founded "Reach Out and Read" program gifting books to kids at each well-child visit and stocking waiting rooms with age-appropriate reading materials. The program can be found in all 50 states, providing 7 million books per year.
Clearly, early exposure to books is crucial for a thousand reasons. But one question remains: does gifting a single book per month really make a difference? Well, according to Evans, et. al. in a 2010 study, "Regardless of how many books the family already has, each addition to a home library helps the children get a little farther in school….Having books in the home has a greater impact on children from the least educated families, not on children of the university educated elite." With conviction and gusto, Parton would agree.
Back in the day, I could never have guessed that this larger-than-life, zillion-time Grammy winner—who once rescued me from my father's (sometimes questionable) taste in music—would become so much more than a platinum-coiffed superstar. Who knew that the undisputed queen of country music would morph into the queen of literacy?
Since its inception, Dolly Parton and her Imagination Library have provided children all over the world with more than 157,000,000 books. Will DPIL one day reach Parton's ultimate goal of one billion? Don't rule it out. DPIL has staying power not just because it has history or because we associate it with our beloved and transcendent Dolly. It has staying power because it works.
To sign your child up to receive free books through Dolly Parton's Imagination Library, click here.