Dolly Parton Got Her First Dose Of The COVID Vaccine She Helped Fund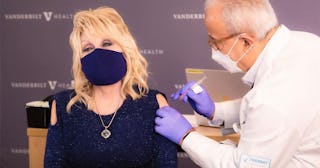 Dolly Parton/Instagram
Dolly Parton, whose $1 million donation helped research and create the Moderna COVID-19 vaccine, just got her first shot
Raise your hand if Dolly Parton is all that's kept you going in the last year.
The singer, actress, and literal angel on Earth has given us so many gifts, from music to movies to cookware to cozy sweaters, that helped make 2020 more bearable. But the greatest gift Parton has even given us is a COVID-19 vaccine, and yesterday, she got her first dose of it.
"I'm so excited. I've been waiting a while," she told fans in a video posted from the vaccine site. "I'm old enough to get it, and I'm smart enough to get it."
Parton also marked the occasion with a song — "Vaccine, vaccine, vaccine" to the tune of her classic hit, "Jolene," with lyrics encouraging everyone to not wait, and to get their own shot as soon as they become eligible.
Parton received the first dose of the Moderna vaccine, which is the one that was researched and created in part due to a $1 million donation her foundation made to the pharmaceutical company.
"When I donated the money to the COVID fund, I just wanted it to do good and evidently it is," she said. But she also made it clear that she's getting vaccinated because her age makes her eligible, and not because of her donation. "I don't want it to look like I'm jumping the line just because I donated money."
Humility and grace is Dolly's brand always, but her incredible heart has been on display more so than usual in this past pandemic year. For example, a few weeks ago, she kindly declined a statue being erected in her honor on the grounds that it's "not appropriate at this time" to put her "on a pedestal." If there's a big award for being able to read the room, Dolly should have it.
Parton got her vaccine just as the Biden administration was making a surprising and exciting announcement: The U.S. has now secured enough vaccine doses to have one for every adult in the country by the end of May, thanks to cooperative agreements between pharmaceutical companies to produce more of the vaccines that have been granted emergency use authorization by the FDA. The administration had previously estimated it would need until at least the end of July to secure that many vaccine doses. In her video, Parton mentioned that exciting news, as well as the fact that having enough people get vaccinated is the only true way we can get life back to normal quickly.
"That would be a great shot in the arm, wouldn't it?" she joked.
And for anyone who is hesitant about getting the shot when it's their turn, she had this message: "I just want to say to all the cowards out there. Don't be such a chickensquat. Get out there and get your shot."
Couldn't have said it better ourselves.
This article was originally published on