Domestic Violence Victims Use Safewords At Pharmacies To Seek Help During Lockdowns
by Julie Scagell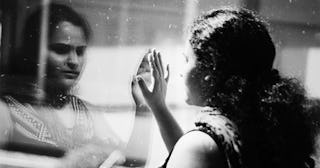 Ashish Kumar/EyeEm/Getty
Domestic abuse victims need options for escaping dangerous situations at home
Domestic violence victims who are under quarantine with their abusers are finding it difficult to reach out for help. In Spain and France, victims are being asked to go to pharmacies (one of few places still open to the public) and use a safeword as a way to ask for help and report abuse.
Individuals who are unable or too scared to call the police in front of their abusers can go to their local pharmacies and say "Mask 19" which will prompt pharmacists to contact police on their behalf, CNN reported. As more and more people are trapped inside with their abusers, being able to ask for help another way is crucial to their safety.
Several cities in the US are already reporting jumps in domestic violence cases or calls to local hotlines, CNN reported. Shelters around the country are full, especially given the need to reduce capacity to maintain social distancing. Add to that the fact that gun sales are setting records, advocates for domestic abuse victims are concerned things may only get worse.
Spain originally came up with the concept of using a safeword at pharmacies and soon after France implemented the option. If victims can't talk openly in the store, they can say "mask 19" to the pharmacist signaling help is needed. A woman in Nancy, France was the first to use this after the government launched the initiative last week. She told the pharmacist her partner had abused her and soon after, he was arrested by police.
For many, having an outlet outside of the home is the only way they escaped their abusers. "I know that when I was with my abuser and leaving my abuser — obviously there wasn't any type of pandemic going on — my work was who I turned to when I was ready to leave," Cape Cod survivor Gabbe Rowland told Insider. "If I was in quarantine, I wouldn't be able to do that. I would have been stuck in a house with him."
Being confined at home makes victims more vulnerable because there is no escape. Of the 20 large metropolitan police departments that provided data to CNN, "nine saw double-digit percentage jumps in domestic violence cases or 911 calls in March, either compared to the previous year or to earlier months in 2020." These are sobering numbers given many states in the U.S. are just a week or two into shelter-in-place orders with no end in sight.
Currently, there is no government initiative to offer this in the U.S., but given the early data indicating the increase in abuse, having this as an option for victims could save lives.
If you or someone you know is experiencing domestic violence, please call the National Domestic Violence Hotline at 1-800-799-SAFE (7233).