Domestic Violence Shelters Forced To Cut Services During Government Shutdown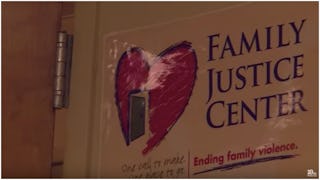 Image via WBIR/YouTube
Domestic violence shelters are being forced to cut down on services because of government shutdown
The government shutdown has turned into the longest in United States history, with zero end in sight. We're already seeing the heartbreaking effects this is having on Americans across the country, including significant cutbacks at domestic violence shelters, which rely largely on federal funds for support.
Over in West Memphis, Cassie Rutledge, executive director at Families in Transition, is concerned that cutbacks at the shelter will force vulnerable residents to return to their abusers ("We will see an increase of death-related events due to abuse," she told Fox13). In Colorado, workers in shelters are buying supplies on their own dime. Some state programs are "freezing buying supplies," including food for residents, according to Politico.
And staffers at Raphael House, a shelter in Portland, are currently bracing for impact.
"We connect survivors with a variety of critical services and systems, including those that provide food stamps, legal and immigration assistance, housing, et cetera," programs and services director Emmy Ritter told Portland Mercury. "This is a complex situation, and it's not yet clear how each will be affected."
It's one gut-wrenching story after the other.
Katie Spriggs, executive director of the Eastern Panhandle Empowerment Center, told The Huffington Post that her agency can no longer offer financial support to clients. This is a huge, huge problem because most of the shelters' potential clients are living in poverty, which forces them to stay in violent situations.
"People will call and say 'I would love to come in, but I have no way to get to work on Monday, or no way to get my kids to school," Spriggs said. "We used to tell them not to worry because we could alleviate some of that financial burden. But now we can't because we don't have any money."
The Huffington Post also spoke to Lisa, a resident at Eastern Panhandle Empowerment Center, who explained how the shutdown has already had an impact on her life. Hot meals are no longer served. She's not able to buy her prescriptions at CVS. Also, she suffers from a traumatic brain injury and the shelter can no longer afford to pay for her transportation to the doctor.
"You can feel the stress in the air," she said. "We try to work as a family, they are a lot of very wonderful women here, but it is hard right now."
Anne Falla, executive director of the Henderson House in Oregon, is desperately trying to figure out how to ration the money they have left. She considered putting her donations coordinator on unpaid leave, but then they won't be able to collect jackets for their clients during the winter. It's a helpless situation all around if the government continues the shutdown.
"It's really hard to think about where to trim the fat," Falla told Portland Mercury, "because there's no fat to trim."