Domino's Launches Baby Registry Because Finally, Someone Gets It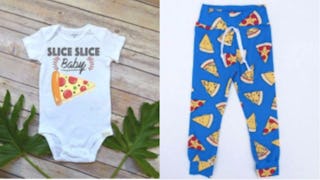 Image via Domino's
Domino's Pizza serves up pizza packages for hangry parents-to-be and the cutest pizza apparel
If necessity is the mother of invention then Domino's Pizza just nailed it. This week the company launched their latest labor of love – a baby registry.
The company cleverly hinted at their big reveal on Facebook. Honestly, who doesn't love a pizza baby?
"While new parents are focusing on their tiny special delivery, Domino's will focus on delivering great pizza for dinner, or lunch, or late-night feedings," Jenny Fouracre, the director of public relations for the pizza chain, tells Us Weekly. "Our baby registry is a fun way for parents and their friends and family to take care of the adults at a very special time in their life."
The baby registry pizza packages have very fitting names including "Sleeping Through the Night, "Hormonal and Hangry," and "Newborn Lockdown." Another package is called "Dad's Babysitting" which is not our favorite name because we all know dad's don't babysit – they parent for crying out loud.
Aside from the pizza packages, they're offering pizza-themed clothing and other fun items. Eat your heart out people.
They have children's pizza pants.
And onesies that say, "Homeslice" and "Slice, slice baby."
They have pizza moccasins, because of course they do.
No look is complete without a baby pizza bow.
There are also pizza blankets, because pizza blankets are always a great go-to gift when you don't know what else to get a baby.
Domino's is stepping up the level of awesome by offering apparel for adults. This maternity baseball-style shirt says it all.
Twinning with your mini-me is always in style. The pie and its slice — we die.
There are coffee mugs and tumblers for the adults too.
Can we register if we're not having babies? Seriously, WE. WANT. IT. ALL.
Parents-to-be can create a registry through Domino's, which will allow family and friends to purchase products in the form of an e-gift card. (You can also just buy the e-gift cards even if they're not registered for.)
Besides serving up the cutest pizza swag ever, on a serious note, this is so necessary right now. Some expecting and new parents are doing the baby thing alone, without a geographically close support group. That means less meals are being made for new parents and their growing families. "The village" is getting harder and harder to come by and many companies, like Domino's, are noticing this gap and rushing to fill it.
With that being said, this is just a suggestion, maybe you think about returning those oh-so-cute baby clothes you just had to buy for the parent-to-be in your life (which PS, were so not on their registry) and get parents something they really want- PIZZA.
This article was originally published on