Don Cheadle Uses His Clothes To Make Some Powerful Statements On SNL
by Thea Glassman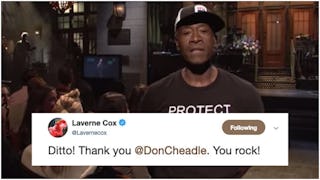 Image via YouTube/SNL/Twitter/Laverne Cox
Don Cheadle hosted Saturday Night Live and sent a powerful, important message
Three very big cheers for celebrities who use their enormous platforms for good. Don Cheadle hosted Saturday Night Live this weekend, and he closed the night out by wearing a shirt that read: "Protect Trans Kids." People quickly took to Twitter to applaud Cheadle for using his voice to spread such an important message.
Cheadle changed into the t-shirt right before he introduced the night's musical guest. He wore it without commentary, though he kept his arms back so the viewers at home could read the words nice and clearly.
And read them, they did. Twitter was buzzing with appreciation for Cheadle. Suffice to say his fans fell in love with him even more that night – and he picked up a few new fans along the way.
Oh yeah, and he also wore a Soviet Union jersey with Trump's name on the back which…LOL. Also a powerful message and lesson in delivering shade.
This isn't the first time that Cheadle has used his platform to advocate for people in the LGBTQ community. In 2017, he starred in rapper Logic's music video "1-800-273-8255." The video tells the story of a black teenager who is struggling to come to terms with his sexuality and contemplating suicide. Cheadle played the teen's father, who is having a difficult time accepting his son for who he is.
"[Cheadle] was really interested in the subject and the project as a whole, and he's a believer in equality," filmmaker Andy Hines told the LA Times. "…I was a brand new dad, looking at Don Cheadle's character so empathetically, shooting these scenes of him holding this brand new baby…It was really overwhelming for me in the moment. I was just trying to make something she would be proud of."
The song's title refers to the National Suicide Prevention Lifeline's phone number and – on the day that it was released – the hotline received 4,573 calls, the second-highest call volume at the time.
Frances Gonzalez, director of communications for the NSPL, explained to Billboard just how powerful an impact artists can have on the people watching them.
"We believe this is a great example of how it is possible for artists and the media to address suicide thoughtfully and creatively, alongside people in the field," she said. "Logic's song is an opportunity to make the conversation about suicide a conversation about how people can find hope and that support is available for anyone that needs it."
This support and dialogue couldn't be more vital for the trans community. Reuters reported in 2018 that about 30 percent of trans female teens have attempted suicide at least once. About 50 percent of trans male teens have attempted suicide at least once, as well.
Here's hoping that more and more artists follow Cheadle's lead, and use their platform to advocate fiercely for the trans community.