This Family Portrait Went Hilariously Wrong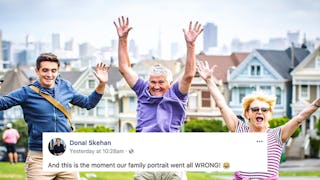 Image via Facebook/ Donal Skehan
Spoiler alert: Everyone is fine
A hilarious family photo is going viral because it perfectly captures the moment it takes a turn for the worse. Donal Skehan visited San Francisco with his parents recently when the group took a snapshot to commemorate the vacation. The result was much funnier than they expected.
"And this is the moment our family portrait went all WRONG," shared Skehan, who is a food writer and photographer originally from Dublin, Ireland. He recently relocated to Los Angeles with his wife Sofie and their dog Max, who definitely stole the show in the family picture. "Max our dog who loves my dad more than anything got a little excited when he posed for a jumping shot outside San Francisco's famous painted ladies," Skehan explained on Facebook. "Puts a whole new meaning on 'crotch shot!' Does anyone have any ice?"
The hysterical photo went viral after Skehan posted it on Instagram. People also left hundreds of comments, checking in with the family on Facebook. "No more baby brothers for you," one person wrote. "Oucher McGoucher! He can say he left more than his heart in San Francisco," another joked. One woman made an excellent point when she commented: "OMG! Well, he's a seasoned dad. I'm sure he's used to getting knocked below the belt. #dadproblems."
Apparently, there were also several people genuinely concerned about Papa Skehan, too. Enough so that Donal Skehan took to Facebook and Instagram to update folks on his dad's condition. "Thanks for all the concern on the last photo after #crotchgate- I can safely report that Max and Dad are still best of pals," he said. "My dad would like it pointed out that he was wearing low crotched shorts and that Max has a very gummy bite and that the family jewels are all still intact!" Talk about a close call. The Skehan crew is lucky they didn't have to cut their vacation short to take dad to the emergency room. In addition to not being permanently injured, the Skehan family has the perfect family photo, and they already know just what to do with it.
Donal explained: "The Christmas cards are gonna look great this year- Family photo gold!"
Bravo, Max the dog, bravo.