Phoebe Waller-Bridge & Donald Glover Reveal 'Mr. And Mrs. Smith' Reboot With Cryptic Video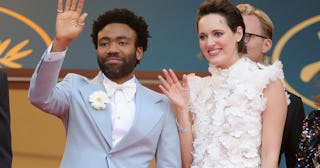 Andreas Rentz/Getty Images
The duo will reboot the Brad and Angelina spy flick for Amazon
Atlanta's Donald Glover and Fleabag's Phoebe Waller-Bridge announced Friday, February 12, 2021 that they will be updating the 2005 action-comedy Mr. and Mrs. Smith for Amazon Studios as a television series. The actors/producers announced the news via a cryptic Instagram story and though it's unclear what the video means, we're all in on Glover and Waller-Bride's new take on the Brad Pitt and Angelina Jolie spy classic.
Instagram user @phoebewallerbridgesource re-uploaded a part of the brief announcement which features Glover seemingly preparing to do the ever-popular floss dance move, then cuts to Waller-Bridge recreating Jolie's famous pose for the camera. Glover's Instagram story adds an additional tidbit: an announcement to reveal that Mr. and Mrs. Smith will come to Amazon in 2022. The video also adds that Francesca Sloan, a writer and producer on Fargo, is their co-creator.
Glover and Waller-Bridge both appeared in the film Solo: A Star Wars Story, with Glover in the role of the young Lando Calrissian and Waller-Bridge as the voice of droid L3-37.
The new version of Mr. and Mrs. Smith is not Glover or Waller-Bridge's first collaboration with Amazon studio. Waller-Bridge created and starred in the hit series Fleabag, which gathered six Emmys, including Outstanding Comedy Series in 2019, while Glover's musical film (co-starring Rihanna!) Guava Island is also an Amazon Original.
In a statement, Yariv Milchan and Michael Schaefer of New Regency — who is producing the show — said of the project: "Having had the pleasure of successful collaborations with the incredibly talented Donald Glover, most recently on Guava Island, we all started talking about other projects to do together and when he suggested the idea of a new take and iteration on the New Regency film, Mr. & Mrs. Smith, we jumped at the chance to get going right away. Adding Phoebe and her company Wells Street Films as a collaborator and co-star takes everything up another level and makes the project worthy of a reimagining for both new audiences and past fans of the original film. We are so excited to be working with Donald, Phoebe, Francesca, and the entire team at Amazon Studios."
A Variety piece also quotes Amazon Studios head Jennifer Salke's statement that "Donald and Phoebe are two of the most talented creators and performers in the world. It's truly a dream for us, as it will be for our global audience, to have these two forces of nature collaborating as a powerhouse creative team."
As per usual, the Twitterverse is divided. Some are looking forward to the pairing.
While others need a bit more convincing.
The 2005 film Mr. and Mrs. Smith, penned by Simon Kinberg and directed by Doug Liman, starred Brad Pitt and Angelina Jolie as a disillusioned married couple who are stunned to discover they are both undercover assassins for rival spy organizations.
It took in nearly half-a-billion dollars in the worldwide box office, no doubt helped by the fact that Pitt and Jolie admitted that they fell in love on the set.
Sure, Hollywood cranks out too many reboots, but Phoebe and Donald as a pair of sexy married spies? Yes, please.