Trump's 9/11 Anniversary Tweets Reach A New Level Of Low
by Valerie Williams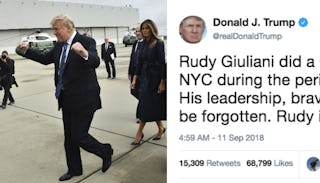 Image via Nicholas Kamm/Getty Images/Twitter/Donald Trump
Donald Trump's 9/11 anniversary tweets remind us exactly who he is
It's the 17th anniversary of 9/11 and instead of taking this somber day to remember lives lost, President Donald J. Trump (a phrase I still can't say without wincing a bit) is tweeting in exclamation points and blabbering about Russian collusion and the media. Because of course he is.
Today, at literal dawn, was Trump memorializing the incredibly brave women and men who rushed into burning buildings and falling debris in the hopes of pulling out survivors? Nope. He was ranting about Russian collusion (namely, his insistence that there wasn't any), and the media/DOJ while quoting a Fox Business Network segment. How very presidential.
In between those little missives, he did manage to tweet out a message about how he's declared 9/11 to be Patriot Day to honor those who lost their lives 17 years ago today.
But then it was back to business, quoting Lou Dobbs on a day when families, friends, and coworkers are mourning their lost loved ones. As you do.
Oh, and then he managed a plug for his lawyer, former New York City mayor Rudy Giuliani.
He refers to Giuliani as a "TRUE WARRIOR," while totally ignoring the thousands of FDNY firefighters and NYPD police officers who ran head-on into a situation most people would run from. Keeping it classy, as usual.
Speaking of class, nothing says remembering the most horrifying day in our country's modern history like a solid exclamation point.
What even in the hell.
Upon landing in Pennsylvania to attend a memorial service at the sight of the Shanksville crash, he even gave his audience a double fist pump, as one does when leader of the free world while marking our nation's most heartbreaking anniversary. Doubling down on his complete assholery as only he can.
Just…look at this idiot.
The internet definitely had thoughts on his super psyched gesture only moments before heading to the ceremony.
He's so unbelievably wrapped up in himself he literally can't grasp the solemnity of the day and instead treats it like one of his bizarre rallies. Gross.
This seems like the right time to remember exactly what happened on that horrific day 17 year ago. 2,997 people died as a direct result of the attacks — the souls lost in the World Trade Center (WTC) buildings as well as those on American Airlines Flight 11, which hit the North Tower of the WTC; United Airlines Flight 175, that hit the South Tower; American Airlines Flight 77, that crashed into the Pentagon, and United Airlines Flight 93, that crashed down on a field in Shanksville, PA instantly killing all 44 people on board and avoiding whatever target the terrorists had in mind as the passengers were able to thwart them.
All told, we lost 23 members of the NYPD that day and 156 officers have died of 9/11-related illnesses since. 343 brave firefighters also lost their lives with an additional 182 dying of related illnesses in the last several years. Those numbers are expected to climb as the September 11th Victims Compensation Fund set up by Congress in 2011 now has 20,874 claimants eligible for receiving compensation. The Fund has so far awarded $4.3 billion.
September 11th, 2001 was the day our country changed forever in every conceivable way. And now, the person entrusted with bringing comfort and a feeling of security to American citizens during times of crisis and tragedy is busily spewing his usual hatred instead of remembering all the lives lost and irrevocably changed on the saddest day any of us can ever remember.
A day for exclamation points indeed.
This article was originally published on